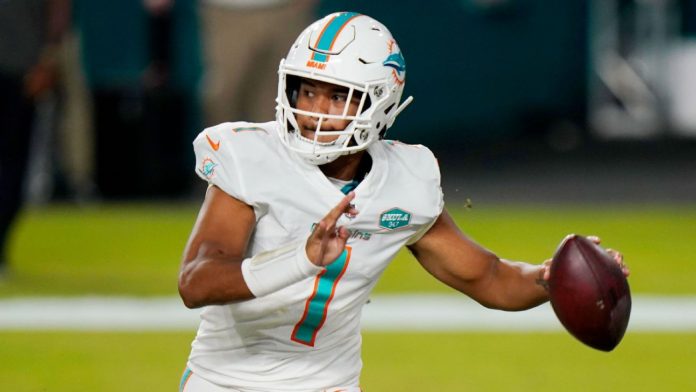 There's a lot of uncertainty at the quarterback position this year in the AFC East for every team but the favorite: the Buffalo Bills.
The New England Patriots went into 2020 as slight favorites to win the division but we saw what happened without Tom Brady. It might not have mattered anyway as the Buffalo Bills finished 13-3 behind the No. 2 offense led by QB Josh Allen. The Bills also improved their defense in the Draft and could be a formidable team for years.
AFC East Standings [2020]
| AFC | EAST | W | L | T |
| --- | --- | --- | --- | --- |
| | Bills | 13 | 3 | 0 |
| | Dolphins | 10 | 6 | 0 |
| | Patriots | 7 | 9 | 0 |
| | Jets | 2 | 14 | 0 |
The rest of the division has quarterback issues. The New York Jets will be breaking in No. 2 overall Draft pick Zach Wilson from BYU after Sam Darnold was traded away.
The Patriots still have Cam Newton, but he will never be the MVP quarterback he once was. New England drafted Mac Jones out of Alabama to eventually replace him.
The Miami Dolphins will go with Tua Tagovailoa, but there are some doubters out there – including me – that doesn't think he's the answer.
Odds to Win AFC East:
New England Patriots +340
Buffalo Bills -150
New York Jets +2400
Miami Dolphins +315
Season Win Totals:
New England Patriots 9.5 o135
Buffalo Bills 11 o160
New York Jets 6 o120
Miami Dolphins 9 o145
Jay's Season Win Total Best Bet: The Bills won 13 of 16 games a year ago and we now have a 17-game schedule. I think Buffalo can easily go 12-5 with that offense and an improved defense. If you can find 11.5 out there with better juice, take it.
Bills OVER 11 -160
Jay's Pick to Win Division: Well, if I think the Bills are going to win at least 12 games, then obviously they'll win the division. In fact, I think they'll win it easily. I can't see anyone else giving them a run.
Bills -150
To see more odds and props for the AFC East, click here.
More Previews!
AFC North Preview
AFC South Preview
AFC West Preview
NFC East Preview
NFC North Preview
NFC South Preview
NFC West Preview