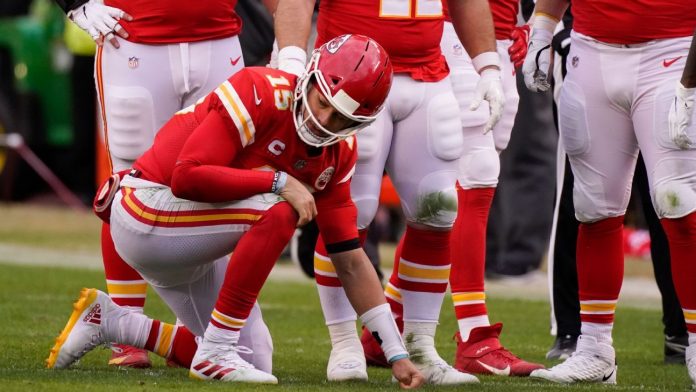 Once again, the Kansas City Chiefs will be overwhelming favorites to win the AFC West this year, and probably for years to come. The rest of the division will be fighting for second place and a possible wild card berth come January. Can anyone stop the Chiefs out West? No.
Kansas City is the odds-on favorite at -275 to win the division with the Denver Broncos (+500) and Los Angeles Chargers (+550) next. Oddsmakers are predicting the Las Vegas Raiders will finish in last and their chances of winning the AFC West are set at +1800. The Raiders went just 2-6 in their brand new stadium last year, but that could change this year with fans now being allowed back in.
AFC West Standings [2020]
| AFC | WEST | W | L | T |
| --- | --- | --- | --- | --- |
| | Chiefs | 14 | 2 | 0 |
| | Raiders | 8 | 8 | 0 |
| | Chargers | 7 | 9 | 0 |
| | Broncos | 5 | 11 | 0 |
The Chargers are on the rise behind quarterback Justin Herbert, who was one of the biggest surprises last season. L.A. also patched-up the offensive line in the offseason and draft, but the downside is that Herbert and company have a brand-new coaching staff to work with.
The Raiders did almost nothing in the draft in terms of offense and that could be a problem going forward. Derek Carr had a nice season in 2020, but can the line keep him off his back?
The Broncos have a really good all-around team, but the quarterback position is weak at best. Drew Lock and Teddy Bridgewater will battle for the starting role and neither gives me much confidence in this offense scoring enough points to win games.
Odds to Win AFC West:
Kansas City Chiefs -275
Denver Broncos +500
LA Chargers +550
Las Vegas Raiders +1800
Season Win Totals:
Kansas City Chiefs 12.5 u130
Denver Broncos 8.5 o130
LA Chargers 9 o165
Las Vegas Raiders 7 o135
Jay's Season Win Total Best Bet: I agree with the oddsmakers in predicting the Raiders finish in last place. Not much changed on offense and the O-line seems worse. The schedule is not easy and I can see Las Vegas starting the season 0-4. That means they would have to go 8-5 the rest of the way to go over their season total. They won't have a big homefield advantage at Allegiant Stadium. You'll see a lot of fans from the visiting team invading Las Vegas this Fall.
Raiders UNDER 7 +105
Jay's Pick to Win Division: I could make a case for the improving Chargers to win this division, but who am I kidding. It's the Chiefs division for as long as Pat Mahomes is under center in Kansas City.
Chiefs -275
To see more odds and props for the AFC West, click here.
More Previews!
AFC East Preview
AFC South Preview
AFC North Preview
NFC East Preview
NFC North Preview
NFC South Preview
NFC West Preview