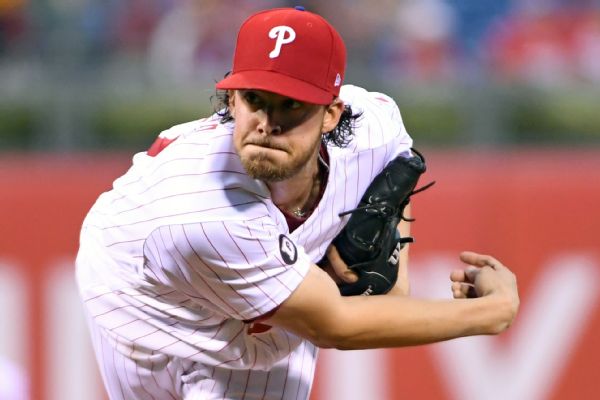 WHIP: Walks + Hits divided by Innings Pitched.
This metric evaluates a pitcher based on how many hits and walks he allows per innings pitched. It's rather easy to calculate a pitcher's WHIP. Assuming that Aaron Nola gives up 6 hits and walks 2 batters in 7 innings pitched, his WHIP would be: [2 (walks allowed) + 6 (hits allowed)]/7 (innings pitched)= 1.14.
$750 BASEBALL BETTING BONUS (US CUSTOMERS ONLY)
WHIP typically correlates to ERA in that both will be high or both will be low for a given pitcher. Theoretically, the more Walks + Hits per Innings Pitched, the more earned runs that pitcher stands to give up. However, WHIP does not statistically account for earned runs. The end result of this, though unusual, is that a pitcher can indeed have a high WHIP and a low ERA or vice versa. This is an extremely important concept to understand, as it often times can be a great tool for isolating overvalued or undervalued pitchers.
$750 BASEBALL BETTING BONUS (US CUSTOMERS ONLY)
For example, Toronto's Keven Gausman currently has a nice 3.00 ERA (July 26, 2022). Those studying just ERA may feel good about Gausman moving forward. A closer look, however, reveals that Gausman also carries a relatively high 1.29 WHIP. Why the discrepancy? Well, Gausman currently has allowed 110 hits in 99 innings pitched. If that trend continues, it's safe to say that Gausman's ERA will rise. So in this particular instance, Gausman's strong ERA may in fact be misleading given his comparatively high WHIP.
$750 BASEBALL BETTING BONUS (US CUSTOMERS ONLY)
So as a frame of reference, here is MLB's Average WHIP since the 1999 season.
1999: 1.46
2000: 1.46
2001: 1.37
2002: 1.37
2003: 1.38
2004: 1.40
2005: 1.37
2006: 1.40
2007: 1.40
2008: 1.39
2009: 1.39
2010: 1.34
2011: 1.31
2012: 1.31
2013: 1.30
2014: 1.27
2015: 1.29
2016: 1.32
2017: 1.34
2018: 1.30
2019: 1.33
2020: 1.32
2021: 1.30
2022: 1.27
information courtesy of Baseball Reference
As you can see, the Major League average has gone way down in the last 20+ years. This year has a chance to be the lowest since the 1965 season.
Growing up, all I looked at was a pitcher's Win/Loss record and ERA. Nowadays, you really have to dig deeper into the analytics to make your Baseball picks and a great place to start is WHIP.
$750 BASEBALL BETTING BONUS (US CUSTOMERS ONLY)