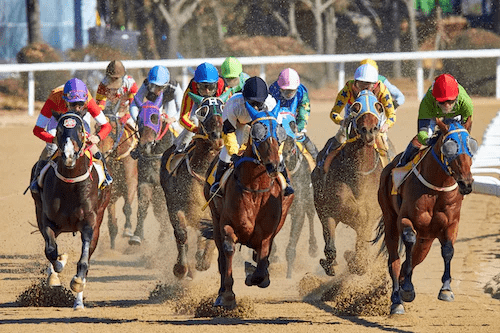 California is well-renowned for its vibrant horse racing scene, boasting some of the most prestigious racetracks in the whole of the United States.
And it's not surprising. From the historic venues to the modern facilities, these tracks attract racing enthusiasts from around the world.
Horse racing holds a very special place in California's sports landscape and is one of the few forms of legal betting in the state. It offers an exciting avenue for both racing and betting enthusiasts alike. The state's racetracks provide a safe and regulated environment for betting on horse races, adhering to strict guidelines to ensure both fairness and integrity.
Thanks to legislation in California, betting on horse races is legal both on-site at the tracks and through various off-track betting facilities throughout the state. So whether you're a seasoned bettor or a novice looking for some thrills, horse racing in California provides an excellent opportunity to engage in legal and regulated betting.
Here's a look at five of the very best racecourses in the Golden State.
1. Santa Anita Park
Nestled in the picturesque city of Arcadia, Santa Anita Park is considered one of the Golden State's crowning jewels of horse racing. It boasts a rich history dating back to 1934, and in that time the track has witnessed countless memorable races.
The Park offers an enchanting atmosphere, all thanks to its beautiful architecture and stunning San Gabriel Mountains backdrop. It hosts prestigious events like the Santa Anita Derby and the Breeders' Cup, with both of these events attracting truly top-tier talent from across the globe.
2. Del Mar Racetrack
Located near the Pacific Ocean in Del Mar, this iconic racetrack is pretty much synonymous with summer racing in California. Del Mar Racetrack has been captivating spectators since the '30s and is known for its fun atmosphere and high-quality racing.
The racetrack spans a precise distance of one mile and can accommodate up to 44,000 individuals, solidifying its position as the second-largest racing facility in the Western region, surpassed only by Santa Anita.
It also offers luxurious facilities, including the Turf Club, Del Mar Racetrack, which provides an exceptional experience for anyone interested in the sport. The track hosts the Del Mar Thoroughbred Club, where the best horses compete in races like the Pacific Classic and the Bing Crosby Stakes.
3. Golden Gate Fields
Situated in Berkeley, Golden Gate Fields is a must-visit destination for racing enthusiasts. Regarded for its panoramic views of San Francisco Bay, this track offers a breathtaking backdrop for some thrilling races.
Golden Gate Fields showcases a combination of dirt and turf tracks, attracting a diverse range of horses and jockeys. The track also plays host to the prestigious El Camino Real Derby, as well as regular racing events throughout the year, so there's always something to see.
4. Los Alamitos Race Course
Situated in Cypress, Los Alamitos Race Course is a hub for both thoroughbred horse racing and quarter horse racing—this track is well-known for its fast-paced quarter horse races. And you don't need us to tell you it offers an exhilarating experience for fans.
First opening its doors in 1951, Los Alamitos Race Course has a rich history in horse racing, and its Night Quarter Horse Racing events are particularly popular among spectators. The track also hosts the esteemed Los Alamitos Futurity, which serves as a significant stepping stone for young thoroughbred horses on the path to stardom.
But, it's not just horse racing this venue boasts: The Vessels Club offers fine dining, award-winning drinks and an ambience that's certainly hard to beat.
5. Fairplex Park
Last but not least, located in Pomona, Fairplex Park is a unique racing venue that combines horse racing with a lively fair atmosphere. This track is part of the larger Fairplex which hosts the annual Los Angeles County Fair.
During the fair season, visitors can enjoy horse racing alongside a variety of fun-packed entertainment options, including carnival rides, concerts, and exhibitions. Fairplex Park is home to the prestigious California Breeders' Champion Stakes, attracting top horses and talented jockeys.