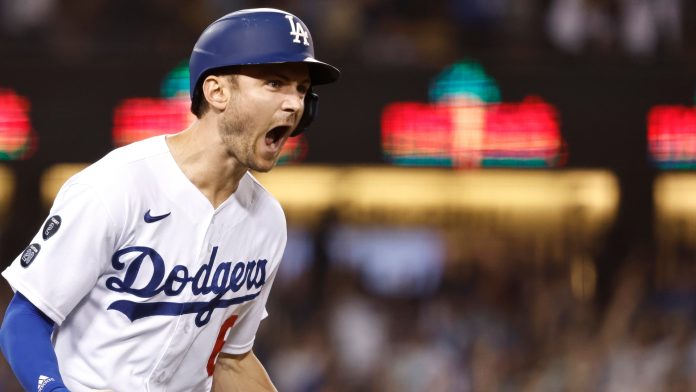 The Los Angeles Dodgers won 106 games in 2021, easily going over their predicted win total, but somehow they didn't win the division. This year's team will be just as good, if not better, with the acquisition of Freddie Freeman. They also added closer Craig Kimbrel recently, and if he can pitch as well as he did with the Cubs last year, this division is over before it starts.
The surprise of the entire 2021 MLB season was the San Francisco Giants, who won 107 games and the NL West title. I can't seem them duplicating that feat this season after losing Kevin Gausman to the Blue Jays and Buster Posey to retirement. Carlos Rodon and Carlos Martinez will help fill the void in the starting staff, but injuries to the lineup have already started.
NL West Standings [2021]
| NL | WEST | W | L | GB |
| --- | --- | --- | --- | --- |
| | Giants | 107 | 55 | - |
| | Dodgers | 106 | 56 | 1 |
| | Padres | 79 | 83 | 28 |
| | Rockies | 74 | 87 | 32.5 |
| | Diamondbacks | 52 | 110 | 55 |
While, the Giants were a pleasant surprise, the San Diego Padres may have been the biggest disappointment. They started strong, but fell off the face of the Earth in the second half. The pitching staff is extremely strong with Blake Snell, Mike Clevinger, Sean Manaea and Joe Musgrove, but can they stay healthy. That will be the biggest key. As will getting Fernando Tatis, Jr. back from injury by the All-Star Break.
The NL West then takes a significant drop after that. The Colorado Rockies and Arizona Diamondbacks will fight all season to stay out of the basement. The D'backs still have Ketel Marte and David Peralta in the lineup, but that's it. The Rockies are rebuilding, but made an odd move by signing Kris Bryant. The lineup will score some runs, but the pitching won't be able to keep up.
Odds to Win NL West:
Los Angeles Dodgers -225
San Diego Padres +340
San Francisco Giants +525
Colorado Rockies +4000
Arizona Diamondbacks +5000
Season Win Totals:
Los Angeles Dodgers 98.5
San Diego Padres 88.5
San Francisco Giants 85.5
Colorado Rockies 68.5
Arizona Diamondbacks 66.5
Jay's Season Win Total Best Bet: These next two predictions are all about the Dodgers. Even with some injuries along the way, the depth is still better than the rest of the division. 100 wins should be a piece of cake.
Dodgers OVER 98.5
Jay's Pick to Win Division: I really can't make a case for the Giants and Padres to win 100 games, so the easy decision here is the L.A. Dodgers.
Dodgers -225
To see more odds and props for the NL West, click here.
Check out our Winning 2022 Free MLB Picks. We were an incredible 1124-1177-11 +6757 in 2021. Jay Cooper and Bobby Babowski are back and ready to repeat in 2022.
More Previews!
AL East
AL Central
AL West
NL Central
NL East