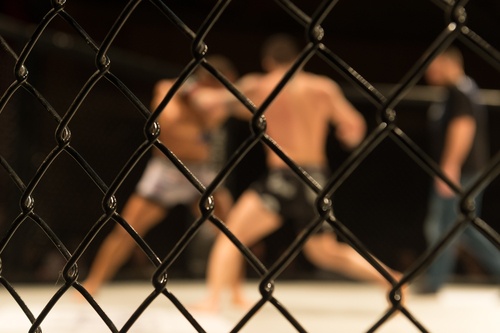 Returning to the Octagon to reclaim his title, "The Notorious" Connor McGregor is squaring up against an as-yet undefeated Khabib "The Eagle" Numagomedov for the Lightweight championship. McGregor will be fighting at his natural weight and despite Khabib's record he's looking like the favourite to a lot of punters – the Paddy Power Khabib McGregor odds however have Khabib as the favourite and don't think the Irishman has what it takes to topple the Russian's dominance of the Lightweight division. Chief among these detractors is Khabib's father, Abdulmanap Nurmagomedov, who's been quoted as saying: "There are a lot of fighters who deserve a title shot more than Conor. For example, Poirier[…]Poirier is the real contender." And he may have a point, Khabib has fought a fair few challengers since he gained the title – is McGregor the best opponent he could face? Or would you rank any of these contenders?
Al Iaquinta
When Khabib claimed his title at UFC 223 in April of last year, the fight truly went the distance. Ending with a unanimous decision in the 5th round, Khabib was proclaimed the champion but the contender he was up against but in a fantastic showing. He was given just a day's notice, barely made weight and the fight lasted the whole five rounds. Al Iaquinta is definitely looking like championship material and he's on record as wanting a rematch with Khabib to really prove himself. But for now, he's content to watch the fight this Saturday and he's none too shy about admitting who he's backing, when discussing how he hopes the fight will go he said "I'm just hoping Khabib goes out there and whoops his ass".
Edson Barboza
Before Iaquinta, there was Barboza in a fight where Khabib managed to thoroughly shut down the game plan of one of the top ranked lightweights fighting in the UFC. Barboza's aspirations for the title were shot down by Khabib's clever tactics and proper defusal of the Brazilian's core weapon (his kicks and knees). Barboza has been training since then, working on his form and despite his loss to Kevin Lee, he's still gunning for that title shot again with a rematch against Khabib. Whether Barboza will secure a rematch is anyone's guess but his intentions are clear.
Eddie Alvarez
Switching our focus here – what if the fighter who most deserves a rematch isn't one of Khabib's but one of McGregor's? If he manages to best Khabib then who should his first opponent be? While there are a lot of current contenders (Poirier's a big one, who's also due a rematch), McGregor's first big fight should probably be against Alvarez. To win the belt and then be stripped before even one defence? Alvarez has kept competing the entire time McGregor's been absent and would be a worthy opponent for The Notorious.
—
Do you think we've missed anyone out? Is there anyone you think deserves a shot at the title belt more than McGregor? Or just someone McGregor should have faced first before he squared up to Khabib. Let us know in the comments below!