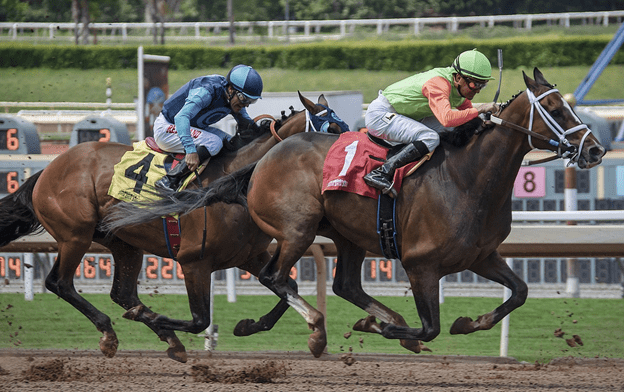 The Kentucky Derby is arguably the most popular horse racing event in the United States. If you compare it to other huge sporting events in America, you can say it's comparable to the Super Bowl among horse racing fans.
However, the Kentucky Derby is just the first leg of three events in the Triple Crown. What is the Triple Crown, you say? It's a series of three horseracing events where horses can try to win all three events and be labeled as the Triple Crown champ. But that's not what we're here for today. Let's talk more about the Kentucky Derby.
What is the Kentucky Derby?
The Kentucky Derby is the most prestigious horse racing in the US and, as mentioned earlier, is the first jewel in the Triple Crown series held annually. It is typically held at Churchill Downs every May, and the place itself is revered as the cathedral of horse racing by many horse racing fans.
The event itself is popular worldwide and has been for a very long time, starting from 1875. Imagining the feeling and atmosphere of a regular derby is quite easy, but there is none quite like it other than the Kentucky Derby. Churchill Down is one place that has been featured in the book called "1000 Places to See Before You Die" because of the Kentucky Derby.
This year, the Kentucky Derby was held at the same place just recently, on May 1, which is the 147th Derby. Unfortunately, if you're planning to go to the next one, then you have to wait quite a while since the 148th Kentucky Derby won't be until May 7th, 2022.
So, how can you bet on the Kentucky Derby?
Select a Racebook
The first step you should take if you want to share the fun of the Kentucky Derby is to choose a racebook online. Racebooks are betting sites where you can place wagers on your chosen horse in a horse race. It's only a matter of preference. Also, be sure to always check the site if it's safe and legit since there are also several fraudulent racebooks out there. Fortunately for you, there are many reputable racebooks online like tvg.
Sign Up
Once you see a reputable racebook, it's now time to sign up. It's easy as you only need your necessary information like your name, address, email, deposit info, birthdate, and a verification that you are of legal age to gamble. Once you input all of your relevant info, you'll receive a notification in your email where you can confirm your account.
Make a Deposit
The method on how you want to deposit your money is a matter of preference. However, not all racebooks have all the popular financial transaction methods possible, so make sure that before you're signing up, they have your preferred way of depositing and withdrawing money from your account.
Thankfully, most racebooks allow deposits directly from your credit cards like MasterCard, AMEX, and Visa. Also, if you prefer e-pay, most racebooks allow PayPal, Skrill, and Neteller.
Make Your Bet
Once you have a deposit, you can now place your bets. For example, if you want to bet on the Kentucky Derby, select the track of Churchill Downs and select Kentucky Derby. Then you can select your bet type and your horse. Enter your dollar amount, and press submit. Now all you have to do is to wait.
Types of Bets You Can Wager On
If you're new to horserace betting, then you might consider learning some of the bets you can wager on the Kentucky Derby. Here are some of them.
Win Bet
It is the simplest type of bet you can make in horse racing. Just simply pick a horse you think will win, and you're done.
Place Bet
A place bet is somewhat similar to a winning bet but in two positions. First, you pick a horse which you think will win either in first or second. This bet is much less risky than the win bet, but it also has a lower return.
Show Bet
It is similar to a winning bet but in three positions, which is just one more than the place bet. In this bet, you'll bet on a horse that you think will win the top three.
Now, onto what we call the exotic bets.
Across the Board
When you pick a horse  across the board, that means you are betting on that horse for the win, place, and show bets. If you win, you'll collect the payout for all three bets.
Exacta Bet
An exacta, you'll be picking two horses that you think will win first and second in that exact order. You win the bet if the horse finishes the race in the exact order you wagered them in.
Trifecta Bet
This is just like exacta but with three horses.
Takeaway
The Kentucky Derby is considered the most popular since it's the event that fires off the start of the Triple Crown Series. If you're planning to participate in the event, there is still much more time to study their odds and the speculated horses to join. But for now, if you understand all the points of this article, then you're ready to go.