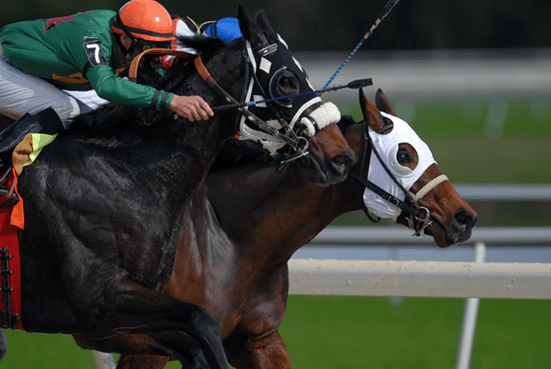 Virtual Horse Races are an almost ever-present type of betting game in modern virtual sports. They simulate real horse racing, but with one key benefit: you won't have to wait around more than a couple of minutes between events – you can try your luck time and time again!
As explained by the team of thecasinowizard.com, betting on virtual horses and real horse racing is done in an almost identical manner, albeit both types of events have structural differences. Being successful in either requires strategy and skill. Providing you with both is the main objective of this guide!
1. Picking the Same Runner
One of the most common strategies for all virtual racing games, and one that is particularly useful in virtual horses, is backing a specific racer (usually from 1 to 8, since these are the ones that win the most races) and sticking to it over a specific time.
Since your chances of winning are not 50/50, you should NEVER go for a Martingale strategy or a similar betting system. Stick to placing standard bets according to your budget and you'll likely make some cash unless you're extremely unlucky.
2. Low Volatility Betting
Virtual Horse Racing has an unfavorable house edge for the player, with an estimated 90% RTP for standard bets, but an even lower one if you don't bet on favorites. Statistically speaking, then, smarter bets are the ones placed on low volatility odds.
The best way to bet on horse racing with low volatility is to always bet on the favorite to win. The highest RTP that you'll find in these sorts of events is for EW betting with a field size of 16: the RTP in these events if of around 92%.
3. Avoid Betting Systems & Random Picks
Systems like the Martingale method can prove costly enough to make you burn through your budget in a matter of minutes, considering how fast-paced virtual horse racing is. Even if you manage to win now and then, the odds are always changing and it could mean that you won't even break even if you go on a small winning streak.
Picking a random horse to win could very well yield some fantastic rewards, but you're highly unlikely to win much if you do this time and time again. Go for the safest bets: there's a reason why the expected RTP is bigger when you place them.
Virtual Horse Betting Tips
This aforementioned advice is likely going to play a key role in your virtual horse racing success, but combine it with these tips to make sure that you earn as much as you can:
There is no connection between these races and real horse racing events. Bet based on what happens on the virtual screen – pay no mind to the real races!
Give accumulators a try. You can build your custom bets and create rewards that could yield massive payouts, although luck needs to be on your side;
Know when to quit. The low RTP of virtual horse racing means that chaining a winning streak is likely to be followed by a losing streak. It's a good idea to keep game sessions short – especially if you manage to win a few rounds in a row!
Are Virtual Horse Races Rigged?
Virtual horses aren't rigged, at least not in the sense of it being a guaranteed loss. However, much like real horse racing, the house edge is quite large for these sorts of events. On average, the house has a 10% advantage over the player in most types of virtual horse racing events, but it could be as large as 20% if you frequently place tricast bets.
As such, the RTP of virtual horse racing is between 80% to 92%.
Virtual Horse Racing uses an RNG to randomly determine the outcome of the races, although favorites are taken into account by the engine;
Different developers offer different versions of the game. Playtech offers one of the fairest virtual horse racing games – look for the best Playtech casinos and try your luck in them.
Is Virtual Horse Racing and Real Horse Racing the Same?
It is very similar to placing a bet on virtual horses and real horses. Virtual Horse Racing aims to be a copy of reality but is presented in a virtual environment that simplifies and augments the pace of the classic racing game. These are some key features of both:
Real horse racing is more favorable to experienced bettors, as experience plays a part and there is no RNG;
Betting systems for virtual and real horse racing are almost interchangeable;
Managing your budget is just as important in virtual sports as it is in real sports betting.
Make sure to place your bets on reliable sportsbooks and only wager in legit online casinos. Check for a license and its validity before you sign up for a casino that offers virtual sporting events.