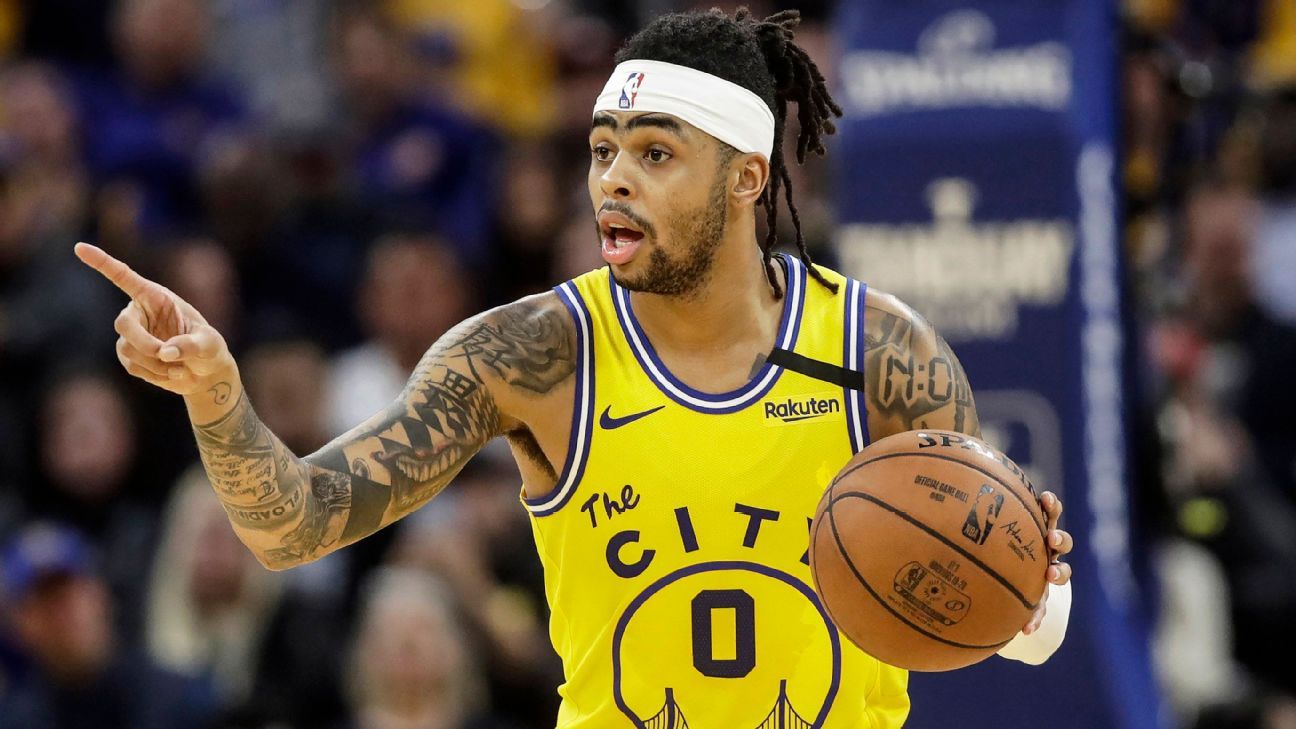 The Warriors signed D'Angelo Russell in the off-season but he could be traded before Thursday. The Suns are among the teams that want to acquire Russell.
According to Spotrac, Russell is on the first season of a four-year, $117.3 million contract. This season he makes $27.2 million and the teams that want to trade for him need to have enough cap space to absorb his deal. The other option they have is to send back similar contracts to the Warriors. D'Angelo
Russell is averaging a career-high 23.8 points along with 6.3 assists and 3.7 rebounds while shooting 43.3 percent from the field and 38.3 percent from beyond the arc in 32.1 minutes over 32 games this season.
Per Prime Time Sports Talk, the Suns are also interested in Russell. A backcourt with Russell and Devin Booker would be incredible. Both can score regularly, they are not afraid to take shots under pressure and if they play off each other they can be unstoppable.
If they combine their forces they would make the Suns a much better team and they already have a strong friendship off the court. Booker and Russell first met as teenagers at the Nike Elite 100 camp in St. Louis when they were in high school. They've been close friends since.
Russell posted a photo of Devin Booker donning his All-Star jersey last year and when Booker was asked about the prospect of playing with his close friend he told Newsday:
"I would love to play with him. He makes people around him better. He's a dynamic player. He has the utmost confidence in himself that I don't think will change ever. That's why we have the relationship that we do."
D'Angelo Russell shined with the Nets, helping them make the playoffs for the first time in four years and he was named to his first NBA All-Star Game last season. He was able to prove that he can play like an All-Star and lead a team, averaging 21.1 points, 7.0 assists and 3.9 rebounds, shooting 43.4 percent from the field and 36.8 percent from beyond the arc in 30.2 minutes over 81 games last year.
Odds to Win the Western Conference
Los Angeles Lakers +130
Los Angeles Clippers +250
Houston Rockets +700
Utah Jazz +900
Denver Nuggets +1000
Dallas Mavericks +1200
Portland Trail Blazers +4000
New Orleans Pelicans +6600
Oklahoma City Thunder +6600
Memphis Grizzlies +10000
San Antonio Spurs +10000
Minnesota Timberwolves +30000
Phoenix Suns +30000
Sacramento Kings +30000
Golden State Warriors +50000
More Pay Per Head tips: