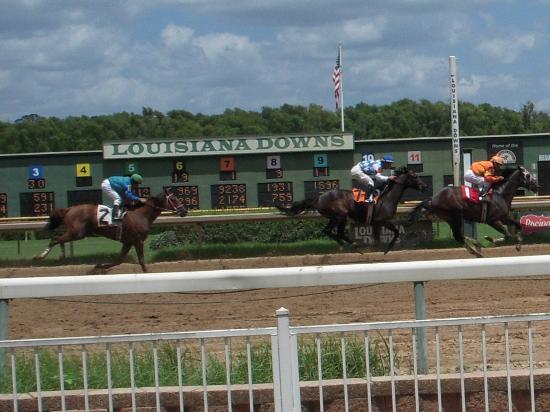 The Louisiana Derby is the most important race on the Road to the Kentucky Derby. The winners of this race will undoubtedly make it to the Kentucky Derby. 
We are a month or so away from the big event, so it's time to start researching. First learn how to bet online, weighing up the type of bets you want to make. Then, start pulling up stat sheets from the main contenders.
Forte
Our number one pick right now is Forte. As we write this article, Forte has an 8-point lead with an impressive 40 points total.
He is 3 years old and has an impressive lineage. Sired by Violence, and who himself was sired by Megaglia d'Oro. Forte's Damesire was Blame, and you can find Storm Cat's lineage two times from his fourth generation. This might explain why his current abilities are so strong.
In his short life, Forte has won 3 major titles. He was the winner of the 2022 Breeders' Cup (Juvenile division), the 2022 Hopeful Stakes, and the 2022 Breeders' Futurity.
Forte's most recent race was the November Breeders' Cup (Juvenile). At that point his betting odd average was 5.02. 
His jockey is Irad Ortiz Jr. who has won over 70 major races.
Instant Coffee
Instant Coffee is a fan favorite. He is currently 8 points behind Forte, which is pretty standard considering their current battle for the best.
In his most recent 4 races, Instant Coffee has won 3 of the 4 matches. They were the 2023 Lecomte, the 2022 Kentucky Jockey Club, and the 2022 MSW.
Instant Coffee took part in the 2022 Breeder Futurity race too, but Forte won in the end. Instant Coffee finished in a respectable 4th place, but we can assume that loss was taken personally.
Although Forte has beaten Instant Coffee, he still has a chance of winning the Louisiana Derby. Instant Coffee has been racing in more tournaments recently, making him better prepared for the race.
Instant Coffee was sired by Bolt d'Oro and Follow No One.
Rocket Can
From 32 points to 20, Rocket Can is a flimsy 3rd place contender. 20 points away from Forte and 12 away from Instant Coffee.
In his career so far, Rocket Can has taken part in 5 races. Twice he came in first position and once he came in second place. His 2023 stats look impressive from afar, as Rocket Can has won 100% of the races he's taken part in. However, that only adds up to one.
His major wins were in the Churchill Downs of 2022 and the Gulfstream Park of 2023. The Gulfstream race was on February 4th. Although Rocket Can's history isn't as decorated as Forte, he has improved his game dramatically over recent races. This recent win could be enough to power him forward in the Louisiana Derby.
Rocket Can's jockey is Junior Alvardo and his trainer is William I. Mott.
Curley Jack
So far Curley Jack hasn't ridden in a 2023 race. In 2022 he made 6 appearances, winning two races and coming in second place in another two.
Curly Jacks' riding pattern is somewhat erratic, suggesting his wins are based on luck or his competition is tight.
His most recent race was the Kentucky Jockey Club Stakes where he came in second. Before that the FanDuel Breeders' Cup (Juvenile) where Jack could only reach 5th place. Back at the Churchill Downs, Curley Jack entered the Iroquois Stakes and earned 1st place.
These last three races are a good indication of how great Curley Jack can do one day, and how badly the races might end.
Betting on Curley Jack could give you some great odds. A flip of a coin could determine how his race will turn out.
Curley Jack's jockey is Edgar Morales and his trainer is Thomas M. Amoss.
Blazing Sevens
Blazing Sevens raced in 4 tournaments last year which may explain why his points are at a measly 16. In those races, he won twice and came third once. In the final race, he came in 4th.
Statistically, Blazing Sevens has been more consistent than Curley Jack, but the bookies will ignore this fact for one reason. Curley Jack has raced in more tournaments than Blazings, allowing him to earn one more point. On paper, Jack seems like a better competitor, but in reality, Blazing Sevens is more likely to win.
Of course, this breakdown ignores Rocket Can, Instant Coffee, and Forte. 
The Road to the Kentucky Derby is a points game, and the top 4 racers are offered a spot in the Kentucky Derby. Our top three have a real chance of making that win, but the odds between Curley Jack and Blazing Sevens are slim. Our money is on Blazing Sevens, but the bookies will suggest Curley Jack.
Summary
The Louisiana Derby is just weeks away, and unless something terrible happens to our main contenders in the meantime, our top 5 are ready. Forte is by far the most likely to win, but winning isn't the only way to succeed at the race.
Keep this in mind when you make your bets.