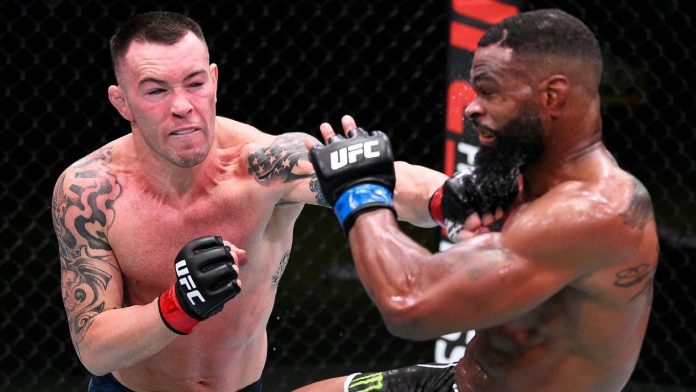 Madison Square Garden has played host to some of the most breathtaking UFC moments in recent times. When competitors discover that they will be fighting in the MSG arena, they beam with excitement.
UFC 205 was the very first UFC fight that happened in Madison Square Garden. Conor McGregor squared up with Eddie Alvarez, which was indeed the climax of that event. It ended up being one of the most successful pay-per-view bouts in UFC history.
UFC 268 featuring Kamaru Usman and Colby Covington
Spectators and fans, in general, flocked to Madison Square Garden for yet another classic bout, UFC 268 featuring Kamaru Usman and Colby Covington, which ultimately ended with Kamaru Usman beating Covington in front of a spectacular 20,715 spectators. Kamaru Usman (20-1) retained his championship beating Colby Covington (16-3) again for the second meeting. The maiden showdown occurred in December 2019 at UFC 245 in Las Vegas.
According to SportsBettingCanada.org, one of the most popular UFC betting sites, the evening contained multiple top-notch fights that lived up to the hype in every professional way, not just the Kamaru Usman vs. Colby Covington exhibition. However, although numerous competitors enjoyed emotional swings on the night, others on the other end of the spectrum had to contend with post-fight doldrums.
Michael Chandler's night will not be one that can be easily swept aside as he suffered his second straight defeat at the Octagon notwithstanding a match-for-match effort, succumbing to Justin Gaethje in a heated lightweight encounter, but his status clearly climbed substantially after the bout. Another disappointment of the day was Zhang Weili, who, despite her great attempts, was unable to defeat Rose Namajunas in her title rematch. Her efforts were insufficient to persuade the judges to rule in her favor.
One interesting question with this one is who has the worst post-fight hangover and is now AWOL from the show?
Colby Covington
Covington was anxious to right and remedy whatever blunders he may have committed during the first bout, which he literally lost by Knockout in the 5th round. Even though we saw an even better Covington in this bout, the fighter was quick and took the fight to Kamaru, eventually becoming the first fighter to upset "The African Monster," nevertheless the champ proved to be superior and won by unanimous verdict.
However, Usman dominated the early stages of the bout as Covington appeared cautious. Covington, on the other hand, changed the tempo in the third round. Covington became very belligerent after surviving the second. Because he was relentless, he was able to get the contest incredibly tight and even destabilize Usman on his legs. Despite the razor-thin margin, he couldn't do much to clinch the victory at UFC 268.
Though Covington lost the fight, he put up a decent fight and showcased his fighting prowess. He pushed the champion through his hardest course and dropped him hard. The welterweight also showed tenacity and stamina, overcoming two straight takedowns in the second round to give the champ everything he could stomach for the duration of the fight.
After UFC 268 What Next?
The battle has ended, and Usman remains the champ; nonetheless, it is important to note that these fighters are not far off. Usman is just a tad on the tall side, which is what propelled him to the UFC welterweight title. With that, it's time for Covington to move on and take on new challenges that will put him back at the top. When pressed what will be next on the menu, he has just one person in mind: there really is a grudge to pay back.
Masvidal, who is poised to challenge Leon Edwards at UFC 269 next month, is who Colby Covington craves. During the post-fight media conference, he said bluntly that Jorge Masvidal (35-15) is next in line. Despite the outcome of UFC 269 coming next month, every UFC enthusiast waits to watch the bout between Colby Covington and Jorge Masvidal, as it will be a match made in hell.
If Masvidal defeats Edwards next month, he will not be eligible for a championship opportunity. He's been defeated straight by Usman, as well as a stoppage. Even if Masvidal ends up losing to Edwards next month, he still has stardom, which ends up making the Covington bout exciting.
Whether he wins or loses, I anticipate the UFC will put Covington up against Masvidal soon. What a mouth-watering encounter that will be. Gilbert Burns, a previous championship contender, might be an under-the-radar alternative (20-4). But rumors mill it that the UFC has other intentions, we keep our fingers crossed.