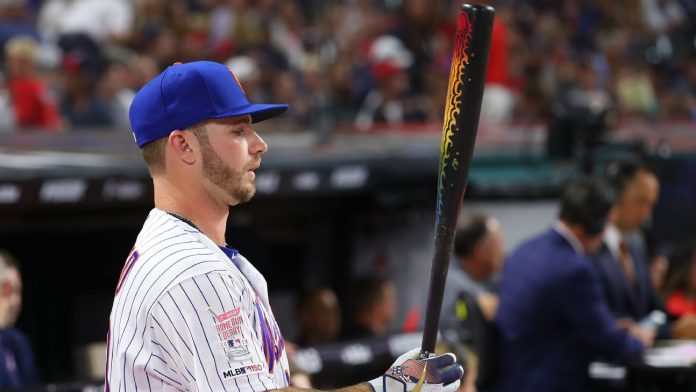 We have reached the MLB All-Star Break, which means its time for the annual Home Run Derby. This year's field is lacking a couple of big names like Judge and Ohtani, but it should be another fun even nonetheless. Two-time champion Pete Alonso leads a strong field this year that also includes hometown favorite Julio Rodriguez. This year's edition is from T-Mobile Park in Seattle. Here are the rules:
Open an Account at Bovada Sportsbook Now! Sign up at Bovada.lv to get up to a $750 Deposit Bonus and to bet all the Web's best MLB Baseball odds and props! (US CUSTOMERS ONLY)
There are eight players broken down into bracket form, seeded 1 through 8. It's single elimination. The seeds were determined by this year's home run totals through July 4.
CLICK HERE TO BET THE HOME RUN DERBY
It's a single-elimination bracket system with three rounds total. In each bracket, the higher seed hits second.
Batters will have three minutes in the first two rounds and two minutes in the final. It should be noted that once the second player in a given round exceeds the home run total of his opponent, the round ends. There is no need for a player to add to his tally. 30 seconds of bonus time will be awarded for hitting at least two home runs that each equal or exceed 475 feet. Ties in any round will be broken by a 60-second swing-off with no stoppage of time or additional time added. If a tie remains after the swing-off, batters will engage in successive three-swing swing-offs until there is a winner.
Our predictions on who will win are below. Enjoy the Home Run Derby!
CLICK HERE TO BET THE HOME RUN DERBY
Home run totals as of July 4
No. 1: Luis Robert, White Sox
Home Runs: 25 | Odds: +450
No. 2: Pete Alonso, Mets
Home Runs: 25 | Odds: +275
No. 3: Mookie Betts, Dodgers
Home Runs: 23 | Odds: +1000
No. 4: Adolis Garcia, Rangers
Home Runs: 21 | Odds: +600
No. 5: Randy Arozarena, Rays
Home Runs: 16 | Odds: +850
No. 6: Vlad Guerrero, Jr., Blue Jays
Home Runs: 13 | Odds: +400
No. 7: Julio Rodriguez, Mariners
Home Runs: 13 | Odds: +550
No. 8: Adley Rutschman, Orioles
Home Runs: 11 | Odds: +1400
CLICK HERE TO BET THE HOME RUN DERBY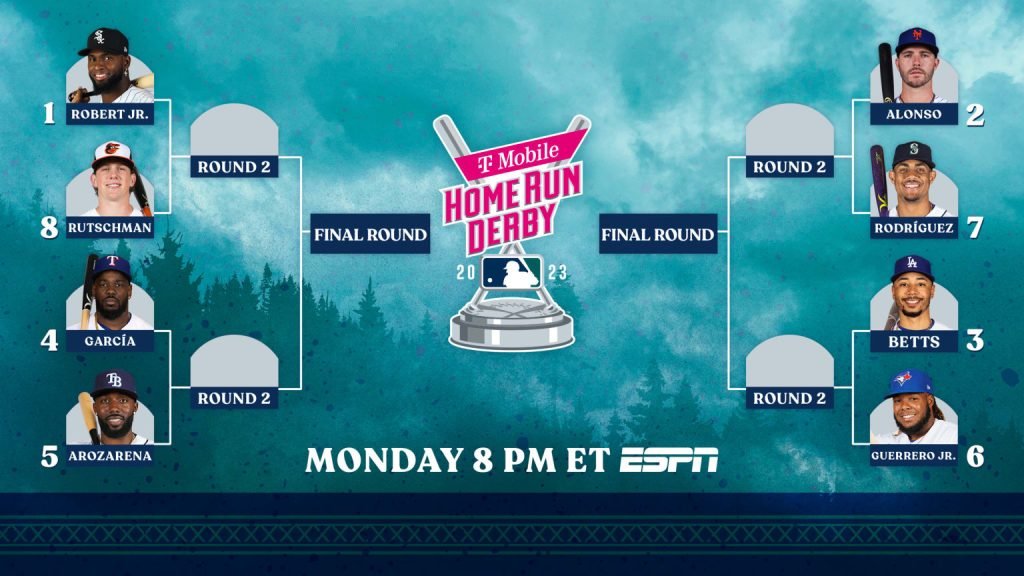 Jay's Picks: Randy Arozarena (+850) and Julio Rodriguez (+550)
Bobby's Picks: Adolis Garica (+600) and Randy Arozarena (+850)