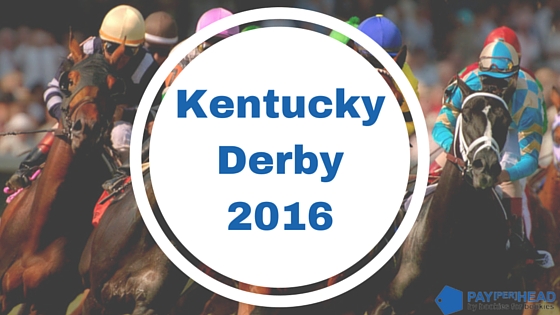 The 142nd Kentucky Derby is right around the corner, so it's time to start thinking about some of the favorites and predictions.
Take the time to use this information when you join PayPerHead.com. You can get two players for the price of one if you sign up right now.
Las Vegas five days ago listed Nyquist as the 4-1 favorite. He's now 7-2 with co-second choices
Exaggerator, Mor Spirit and Mohaymen 8-1. Gun Runner and Brody's Cause are both 10-1.
Mike Battaglia, has said he'll make the undefeated 2-year-old champion 3-1 at the post position draw.
Nyquist remains as the favorite having a perfect record, followed by Exaggerator who won the Santa Anita Derby..
Nyquist undefeated record could be stopped facing the quality of Derby Contenders for the 2016 race.
Actually the reason tipsters are reluctant to point at a true superstar is that the other contenders are very good too.
Nyquist and his Jockey Mario Gutierrez will face hall of famer Gary Stevens who will ride Mor Spirit currently at 7/1, Mohaymen who wants a rematch of the Florida Derby, Triple Crown-winning jockey Victor Espinoza on a longshot (Whitmore), and Corey Lanerie on  Mo Tom 20/1, who is the Churchill Downs' leading jockey in eight straight meets.
The track conditions might determine who will win the 2016 Derby.
Even though Exaggerator can deliver on a dry track, he will definitively be more dangerous if it rains on Derby Day, so keep that in mind.
Gun Runner at 9/1 holds the first rank place on points to enter the Derby, and will be coming on from a six week rest period. No horse has ever won the Derby after that long of a resting period, still anything can happen.
Another horse that could pose a threat to Nyquist is Creator, the gray son of Tapit. He is coming off a recent win at the Arkansas Derby under jockey Ricardo Santana Jr.
There is also DEstin 8/1, and nobody is talking about him. This has happened many times before as a colt that no one was watching or even paying attention comes out victor in the Derby.
One thing is for sure the Derby odds are way too close one to the other, current lines and experts can not pin-point a clear favorite, sure Nyquist will probably be there among the top 3 but not necessarily win it.
Odds to Win The 2016 Kentucky Derby:
Nyquist 7/2
Exaggerator 4/1
Mohaymen 6/1
Mor Spirit 7/1
Destin 8/1
Gun Runner 9/1
Creator 10/1
Suddenbreakingnews 11/1
Brodys Cause 15/1
Danzing Candy 15/1
My Man Sam 15/1
Outwork 15/1
Whitmore 15/1
Mo Tom 20/1
Lani 25/1
Shagaf 25/1
Trojan Nation 35/1
Adventist 40/1
Majesto 40/1
Toms Ready 40/1
Fellowship 45/1
Laoban 45/1
Cherry Wine 50/1
Oscar Nominated 50/1
Dazzling Gem 55/1
Collected 60/1
Azar 70/1
Discreetness 75/1
Star Hill 85/1
Unbridaled Outlaw 85/1
Experts are also having issues picking the winners…
John Asher, racing analyst at Churchill Downs, picks:
Mohaymen
Mor Spirit
Nyquist
Gun Runner
Exaggerator
Jill Byrne, Senior Racing Analyst at Churchill Downs, picks:
Mor Spirit
Nyquist
Gun Runner
Destin
Mohaymen
James Scully, editor of the Handicapper's Edge and Bloodstock Journal, picks:
Mor Spirit
Gun Runner
Nyquist
Exaggerator
Creator
None of them picked Nyquist, makes you wonder.. Really?
Come on, this is the Derby with great jockeys and various horses. This goes to show that in those 2 minutes, anything can happen.
For more great online bookie tips, join PayPerHead.com and get two players for the price of one when you join right now!