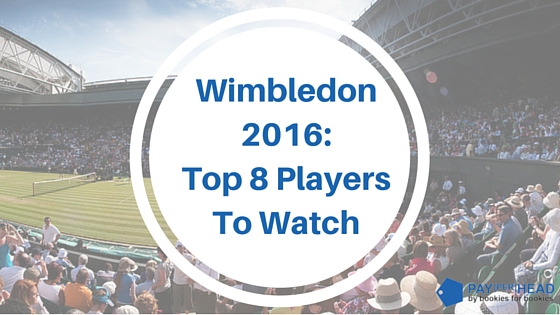 The Wimbledon is the next major tennis tournament in 2016 starting on June 27th and bettors are getting ready to place their bets on it.
You can expect from these top tennis professionals that they will be bringing their power swings, fast serves and quick movements to each and every Wimbledon game they're in.
Bettors are looking forward to seeing their favourite male tennis players on the court and hoping that they'll make a big profit from them too.
Here are the top 8 male tennis players that bettors love to watch.
Want to build your online bookie business in tennis? Try PayPerHead.com's premium bookie software today.
The Top 8 Male Players Bettors Love To Watch
Novak Djokovic
The number one players in the world won the first 2 majors of the year. He's going to be the favorite to win Wimbledon. Online bookies have to control the amount of action on Djokovic to win Wimbledon. He looked great taking home the Australian and French Opens earlier in the year. If he's on top of his game, nobody beats him.
Milos Raonic
His best finish at Wimbledon was the semifinals in 2014. Some tennis bettors might put a few bucks on Raonic. He has a shot but something crazy would have to happen.
Stan Wawrinka
He proved in 2015 that he can beat a player like Djokovic in a major. He won the French Open in 2015. There will be those that believe he's the best longshot to win Wimbledon.
Andy Murray
Murray just switched coaches back to Ivan Lendl. He's had trouble controlling his emotions. With a bit more discipline he could win Wimbledon as the second choice. His grass game is incredible. Plus, he's English. Like Djokovic it's going to be important to control the amount of action on Andy Murray to win Wimbledon.
Nick Kyrgios
The odds will be right on Kyrgios. But he's going to have to be exceptional in order to upset Murray, Djokovic or Federer at Wimbledon 2016.
Kei Nishikori
The Japanese tennis star made the U.S. Open Finals in 2014. That's the best he's ever finished in a major. Some will no doubt put money on Nishikori.
Dominic Thiem
Thiem won 4 matches on grass at Stuttgart this year. He'll be a longshot bet to some bettors just because of that.
Roger Federer
Federer skipped the French Open due to injury. He should be ready to show his best at Wimbledon. He'll be the longshot bettors' choice. Most anyone looking to beat Murray or Djokovic is going to put money on Federer. He's also probably the only one that could beat Murray or Djokovic.
Now you know who bettors are ready to place their wagers on for the Wimbledon 2016, it's the best time to grow your bookie business further with PayPerHead.com's premium platform today.