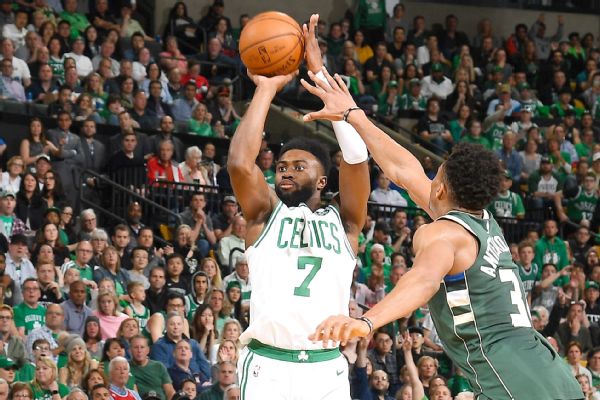 After pulling away from the brink of defeat with two straight victories in their Eastern Conference semifinal series with the Boston Celtics, the Toronto Raptors dropped Game 5 in what can only be described as wire-to-wire domination. On Wednesday, September 9th, 2020, they will try to reverse that in Game 6.
AMERICA'S BOOKIE WEEKLY FOOTBALL SQUARES CONTEST IS BACK
The Raptors, who did not lead at any point in the contest, looked immediately disengaged from the tip. In some ways, one could infer that the lack of intensity was because the Raptors knew they would have to play an intense Game 6 no matter the outcome of Game 5.
Regardless, the Celtics got outstanding performances from their key cogs, especially Jaylen Brown, who notched 27 points on an ultra-efficient 10 of 18 shooting. Kemba Walker and Jayson Tatum weren't so bad either, as both players combined for a grand total of 39 points.
Kyle Lowry, who had been nothing short of phenomenal, only attempted eight field goals, and Fred VanVleet only scored 18 off of 14 field-goal attempts.
Pure and simple: The Raptors looked like they were already looking ahead to Game 6 of the NBA Playoffs. So, as expected, here's the key wagering information you need to keep in mind as you get ready for Game 6.
Expect Seven
While this headline sort of gives away the wager, we do think you can safely count on this series going to seven games.
If it wasn't for a miraculous jump shot with 0.5 seconds left in Game 3, the Raptors very well could be out of the series. But their ability to battle back in the following game and put up a Herculean effort can only be described as an undoubted prelude to what will be a seven-game series.
In fact, the Celtics, who showed remarkable defensive intensity from the opening possessions, were certainly of the mindset that Game 5 would be a cakewalk. The Raptors no longer had the must-win intensity lighting a fire from beneath them. As it stands, yet again, the smarter bettor knows the Raptors find themselves facing a must-win situation, as a loss in Game 6 means "series over."
Sensing this expected response, the Celtics could very well play Jekyll and Hyde and give the betting public looking for NBA picks another head-scratching performance that sees them playing a Game 7. We are of the "seven-game" prognosticating crowd, so certainly expect there to be seven games.
Another Under?
In every game in the series, so far, the total has gone under, with Game 6 being another under in the hat, if you will. For those expecting another under, it's important to understand that trends are meant to be broken, but in short spurts, trends can stay one way.
We don't think there is going to be another break in the trend, and we like the sixth game in the series to stay under the total at online sportsbooks.
The Celtics, sensing that they will be playing seven, will probably come out unmotivated and half-speed, leading to a similar outcome as we witnessed Monday night when the Celtics cruised to a double-digit finish.
Expect the same outcome but for the Raptors this time around, setting up an epic seventh-game finale.
The Pick
The Raptors will cruise, 111-97. Take the Raptors moneyline and the under.
pick courtesy of Realbookies.com