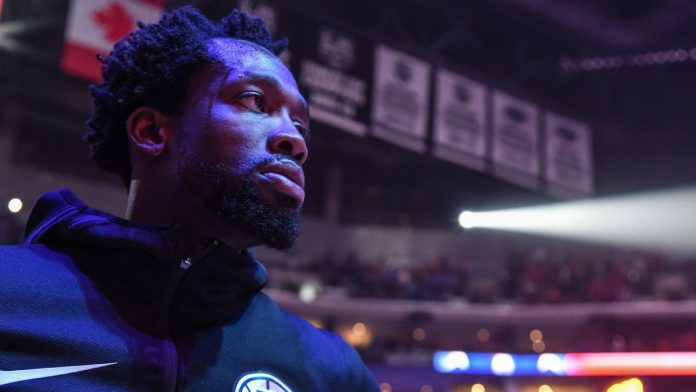 Before the NBA season was suspended due to the COVID-19 outbreak, the Los Angeles Lakers had an impressive weekend with back-to-back wins against the Milwaukee Bucks and Los Angeles Clippers.
Many think that it made the Lakers the team to beat in the NBA. Clippers guard Patrick Beverley disagrees. Beverley was asked if the Lakers were the team to beat and he shut down that notion.
"No. I mean that with absolutely no disrespect. Not only to the Lakers organization but any organization," Beverley said on the league's Instagram Live feed.
This isn't the first time that he has tried to discount how good the Lakers have played. After the Lakers beat the Clippers 112-103 on March 8th he was asked if guarding LeBron James was a challenge and he said no, which is absurd because LeBron had 28 points and led the Lakers to the huge victory.
The Lakers were playing great basketball when the season was suspended and they would have been one of the teams to beat in the playoffs. Now we can't know what would have happened and teams will look very different if and when the season resumes.
The Lakers do have a roster loaded with veterans, it doesn't hurt to have that once play resumes. That said, James isn't a youngster, the rest can help his body but also hurt his rhythm. Every NBA team will go through this once the playoffs start. The Lakers, Clippers and Bucks will all still be considered favorites to win the NBA Championship but it obviously remains to be seen how each team will come back.
Odds to Win the NBA Championship By A1pph.com
Los Angeles Lakers +225
Milwaukee Bucks +225
Los Angeles Clippers +300
Boston Celtics +1200
Houston Rockets +2000
Toronto Raptors +2500
Denver Nuggets +3300
Philadelphia 76ers +3300
Miami Heat +4000
Dallas Mavericks +5000
Utah Jazz +5000
Brooklyn Nets +6600
Indiana Pacers +8000
Oklahoma City Thunder +10000
Memphis Grizzlies +25000
New Orleans Pelicans +25000
Portland Trail Blazers +25000
Orlando Magic +50000
Phoenix Suns +50000
Sacramento Kings +50000
San Antonio Spurs +50000