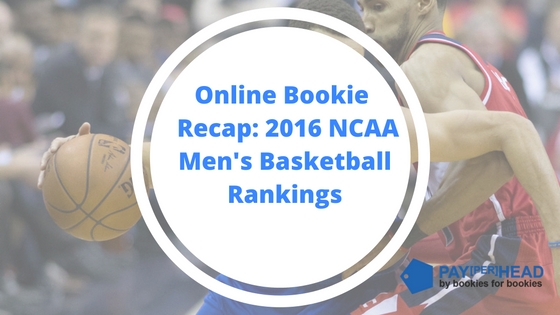 The 2016 NCAA Men's Basketball Tournament ended with a great flourish. Here's a recap of 2016 with some words about the season's Top 4 ranked teams and their chances this upcoming season.
For more useful online bookie tips see PayPerHead.com's full library here
Villanova – The Wildcats needed a last second shot by Kris Jenkins in order to take home the championship over favored North Carolina. UNC was only favored by 2 points, meaning that there were plenty of Wildcat fans who won money in online books by betting on Villanova.
Online bookies should realize that Villanova is going to be a major favorite in NCAA Men's Tournament futures. Pay per head tools like max betting limits should help temper some of the fervor around Villanova repeating this season.
North Carolina – North Carolina lost 3 major players from their almost championship team last season. The Tar Heels were oh so close last season. 'Nova was just too much for NC in the NCAA Tournament Finals. North Carolina went into the Final Four as the second choice to win the championship. Those players who bet on the Tar Heels had to feel sick after 'Nova's Kris Jenkins hit the game winning shot.
Justin Jackson, Joel Berry II, Kennedy Meeks and Isaiah Hicks return this season. That gives Roy Williams another top hand in the ACC. Pay per head agents should expect plenty of wagers on the Heels to win the NCAA Tournament in 2017.
Kansas – Frank Mason III and Devonte Graham are 2 excellent, returning, guards. They should be able to help Kansas get to the Sweet 16 if not the Elite Eight this season. Kansas was the favorite at the beginning of the NCAA Tournament this year. The team fell to Villanova in the Elite Eight simply because their players weren't as good as 'Nova's.
This season, Bill Self recruited hotshot California guard Josh Jackson. Jackson is too good to leave on the bench, meaning that the Jayhawks will likely start 3 guards. Pro NCAA Men's Basketball bettors are going to jump on Kansas at what should be decent odds. Pay per head online bookies should make sure that max betting limits are in place.
Oklahoma – Buddy Hield is the single biggest reason that Oklahoma made it to the Final Four last season. The Sooners were underdogs to Oregon in the Elite Eight. The Sooners trounced Oregon before scoring only 51 points in a 51 to 95 loss to Villanova in the Final Four.
Buddy Hield has gone on to the NBA. Although Jordan Woodward is a good basketball player, he, like everyone on this team, is up against it facing Kansas. Set max betting limits, but per head agents probably don't have to worry too much about the Sooners winning the title this season.