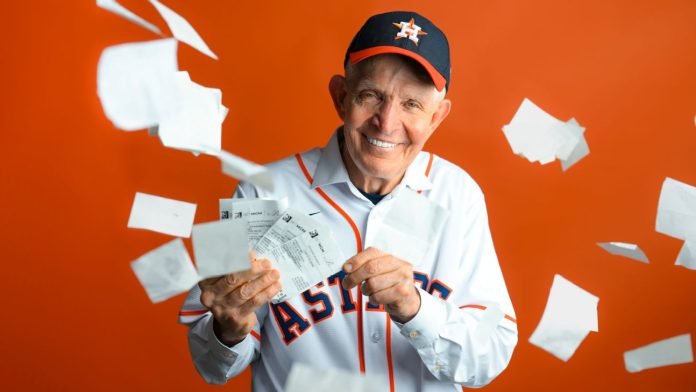 There isn't a gambler that is more famous than Jim McIngvale in the whole of the United States. Indeed, the furniture tycoon, better known as 'Mattress Mack', is renowned for placing some of the biggest bets in American sporting history. Although there is more to McIngvale's wagering than just winning given that the 75-year-old uses his betting to advertise his furniture business in Texas as well as run promotions.
There isn't a better example of how well this concept works than when McIngvale went to Louisiana to stake a total of $10 million on the Houston Astros winning the World Series in 2022. This was a bet placed well in advance of the season finale showdown but to ensure that he wasn't out of pocket, McIngvale simultaneously ran a promotion that guaranteed his customers would get their money back if the Astros won and they had spent over $3000 or more on certain mattresses. As we now know, the Astros beat the Philadelphia Phillies 4-2 to win the World Series.
Oh, and McIngvale won $75 million in the process.
THE HOUSTON ASTROS WIN THE 2022 WORLD SERIES 🚀 pic.twitter.com/XZaf0pai7C

— ESPN (@espn) November 6, 2022
Needless to say, this payout, the largest in sports betting history, more than helped compensate his thrilled customers who lined up en masse to get their money back.
Mattress Mack heads back to Louisiana
Since the Astros stormed to victory, it would be fair to say that McIngvale has become famous not just in the states, but all over the world. This is ultimately why the cameras come out whenever he decides to head to Louisiana to place a bet.
People have often asked why McIngvale chooses Louisiana and the broader answer is that the region attracts bettors from all over the country, given that sports betting is legal throughout most of the state, with 54 of the 66 parishes in Louisiana granted licenses to operate. In other words, it is a state that very much welcomes sports wagering, and this betting promos Louisiana page, which lists generous welcome bonuses from competitive bookmakers such as FanDuel, DraftKings, and BetMGM, illustrates as much.
In McIngvale's specific case, Louisiana does, of course, border his native Texas, which makes it an easy choice for him. This is why he once again set off for the Pelican State so that he could place a $2 million on the Dallas Cowboys beating the San Francisco 49ers in the NFL playoffs in January 2023.
A classic NFC showdown you won't wanna miss! @49ers @Cowboys

📺: #DALvsSF Sunday 3:30pm ET on FOX
📱:Stream on NFL+ https://t.co/RqOcaBtu9E pic.twitter.com/FAywgya8YB

— NFL (@NFL) January 21, 2023
However, on this occasion, the 75-year-old's luck was out after the Niners ran out 19-12 winners.
Mattress Mack is still able to sleep well at night despite Cowboys losing
Unsurprisingly, there was a subsequent clamour for McIngvale's thoughts in the wake of losing his bet and he was only too happy to provide a soundbite and some advice to losing Cowboys quarterback Dak Prescott. On this occasion, a beaming McIngvale said:"Hey Dak, Mattress Mack here. I just lost $2 million, but I got some advice for you: Get rid of that Sleep Number mattress and get a Tempur-Pedic. You'll get much better results."
A tough loss for the team from Dallas, but I think I may have a solution so this doesn't happen next year… pic.twitter.com/heh2TvqrUq

— @MattressMack (@MattressMack) January 23, 2023

Gracious in both victory and defeat, Mattress Mack's cult status continues to grow. The only question that remains is, who will McIngvale put his money in 2023? There will be thousands of people looking to upgrade their mattresses who will be desperate to find out.