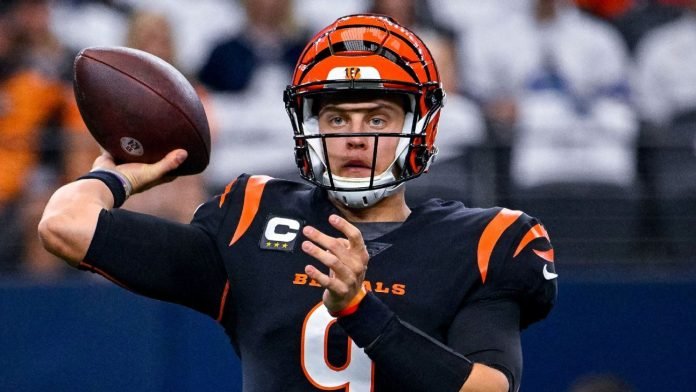 One of the tightest divisions over the last few years has been the AFC North. The Cincinnati Bengals have navigated the division each of the last two years and won a Super Bowl and lost an AFC Championship game. The Bengals are favored again to win the AFC North, but the Ravens, Browns and Steelers are lurking.
AFC North Standings [2022]
| AFC | NORTH | W | L | T |
| --- | --- | --- | --- | --- |
| | Bengals | 12 | 4 | 0 |
| | Ravens | 10 | 7 | 0 |
| | Steelers | 9 | 8 | 0 |
| | Browns | 7 | 10 | 0 |
Cincinnati's offense is one of the best behind Joe Burrow and an improved O-line and that is the big reason they're the favorites to win the AFC North. The defense is a bit of a question mark coming in with two new safeties and a lack of depth at cornerback. The team didn't do much in the offseason to shore-up a defensive line that went through a lot of injuries last year. The schedule, which starts and ends with rival Cleveland, is ranked 17th in the league.
Odds to Win AFC North (as of 7/10/23):
Cincinnati Bengals +130
Baltimore Ravens +250
Cleveland Browns +400
Pittsburgh Steelers +450
Ravens' fans were dreading life without Lamar Jackson, who asked to be traded, but then came back with a five-year contract extension. The team upgraded a poor receiving corps by adding Odell Beckham, Jr. J.K. Dobbins and Gus Edwards will once again anchor a strong running attack that will be led by new offensive coordinator Todd Monken. The defense is solid and the Ravens should benefit from the 21st-toughest schedule in the league.
An even easier schedule was given to the Pittsburgh Steelers (25th) and they will need it. Head coach Mike Tomlin has yet to have a losing season in Pittsburgh and the team will be fighting this year to get nine wins. T.J. Watt, who won Defensive Player of the Year in 2021, missed seven games due to injury. Mitchell Trubisky struggled again behind a poor offensive line, but there's hope under center with Kenny Pickett. Pittsburgh added some key offensive linemen during the offseason to help including Georgia tackle Broderick Jones in the first round.
Season Win Totals (as of 7/10/23):
Cincinnati Bengals 11.5 o145
Baltimore Ravens 10.5 o125
Cleveland Browns 9.5 o140
Pittsburgh Steelers 8.5 o160
The Cleveland Browns finished last once again in the division and have failed to make the playoffs in 19 of the past 20 years. They had a built-in excuse with quarterback Deshaun Watson sitting out the first 11 games due to suspension. He was rusty when he debuted but the team was pretty much out of it by then. With Watson fully eligible and a new defensive coordinator in Jim Schwartz, the Browns should be better.
Jay's Season Win Total Best Bet: Call me crazy, but I think the Steelers can compete in this wide-open division. I won't call for them to win it, but I believe they can get at least nine wins. The schedule is not too tough and Tomlin still hasn't had a losing season in all his years in Pittsburgh.
Steelers OVER 8.5 (-160)
Jay's Pick to Win Division: I'm sticking with the best team in this division the last two years. I would have liked a little better odds, but I realize the rest of the AFC North has improved. Still, Cincinnati has all the tools to make another run at the Super Bowl.
Bengals +130
To see more odds and props for the AFC North, click here.
More Previews!
AFC East Preview
AFC South Preview
AFC West Preview
NFC East Preview
NFC North Preview
NFC South Preview
NFC West Preview