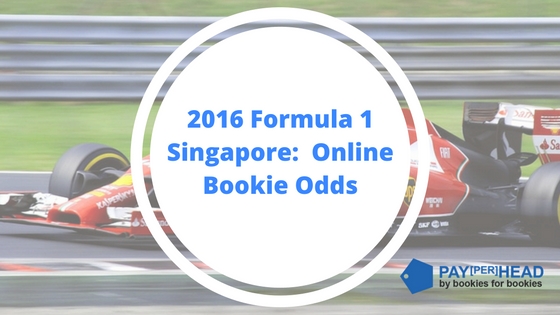 2016 Formula 1 heads to Singapore where Lewis Hamilton and Nico Rosberg will resume their rivalry. Pay Per head agents had better pay attention to a couple of other drivers in addition to Hamilton and Rosberg to win the Singapore Grand Prix.
For even more useful tips for online bookies see PayPerHead.com's full library here.
Lewis Hamilton                      6/4
Hamilton should be the favorite. He's got a nice 2-point lead in the 2016 Formula 1 Standings over Nico Rosberg. Hamilton has 6 wins as of the Italian Grand Prix. Hamilton won the Singapore Grand Prix in 2007. He won it again in 2014. His odds to win in Singapore are over even money, meaning that pay per head agents should watch as some flows into him from pro bettors. Most of those who bet on Hamilton will be casual bettors.
Nico Rosberg                          3/1
Rosberg sets up as the wise guy's choice to take home the trophy in Singapore. Rosberg has won 7 times this season. Even though he's behind Hamilton by 2 points, 248 to 250, a case can be made for Rosberg to take home his first trophy at the Singapore Grand Prix. Online bookies need to make sure that the pros don't pound Rosberg in their sportsbooks.
Daniel Ricciardo                    4/1
Ricciardo is getting plenty of attention from the 2016 Formula 1 bettors to win the Singapore Grand Prix. The reason why is because Ricciardo is in third place in the Formula 1 Standings. He's behind Hamilton by 89 points. He has 161 points so far on the season. He hasn't won a race yet, which means that some bettors are going to expect him to be due. It makes sense to be careful regarding Ricciardo. A fan, or two, could try and hit a nice score in you PPH book by making money on Ricciardo.
Sebastian Vettel                      15/2
In 4th place in the Formula 1 Standings, Sebastian Vettel has to be the driver that the pro bettors favor to win in Singapore. The Singapore Grand Prix wasn't held from 1974 to 2007. Since 2008, Sebastian Vettel has won 4 of the last 8. Vettel has won 3 out of the last 4 including winning in 2015.
It goes to reason that per head agents and online bookies will want to make sure they don't take too much action on Vettel. Setting max betting limits on all driver options to win the Singapore Grand Prix is the way to go.
For even more useful tips for your online bookie service see PayPerHead.com's full library here.