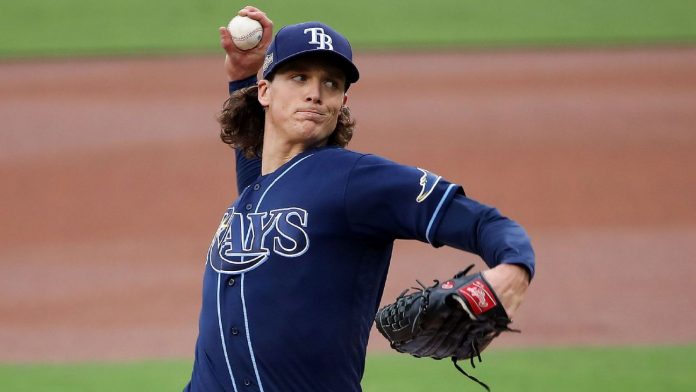 Tampa Bay (3-0) vs Houston (0-3)
When: Wednesday, October 14th 2020
Where: Petco Park,
San Diego, CA
Time: 8:40 ET | TV: TBS
Opening Odds: Tampa Bay -133/8
The Tampa Bay Rays are one game away from not only clinching their second World Series appearance, but also giving themselves almost a full week off before the Fall Classic. The Rays will send Tyler Glasnow to the mound versus the Houston Astros in Game 4 of the American League Championship Series on Wednesday night at Petco Park in San Diego opposite Zack Greinke. Joey Wendle and Hunter Renfroe each drove in two runs in the key sixth inning as the Tampa Bay held off Houston 5-2 on Tuesday to take a commanding 3-0 series lead. Only the 2004 Boston Red Sox have come back from that deficit in an ALCS, beating the New York Yankees. Jose Altuve blasted a solo homer in the first inning for the second time this series before his third error in two games opened the door to Tampa Bay's five-run sixth. Altuve's throwing error on a potential double-play ball put two runners aboard and Wendle eventually ripped a two-run single to left field to give the Rays a 2-1 lead. Three relievers bridged the gap to Aaron Loup, who worked out of an inherited bases-load jam in the eighth inning before Diego Castillo earned his second save of the series. The Astros will once again serve as the 'home' team in this contest tonight.
Pitchers: Rays – Tyler Glasnow (2-0, 4.05) | Astros – Zack Greinke (0-0, 5.19)
In the decisive Game 5 of the 2019 ALDS, Glasnow allowed four runs on five hits in 2.1 innings as Houston won 6-1. He has a chance to get some revenge and send his team on to the World Series. Glasnow has struck out 20 batters in 13.1 innings this postseason for the Rays, who have won each of his last 11 starts including the playoffs. Glasnow also won his lone career regular-season start against Houston after allowing one run on six hits in five innings in 2019.
Greinke was not sharp in his latest outing, serving up a pair of home runs and four runs total in 4.2 innings of a no-decision against the Oakland A's on Thursday. The former AL Cy Young winner owns a 4-6 record with a 3.36 ERA in 17 career appearances (14 starts) versus Tampa Bay, but hasn't faced the Rays this season. He's looking for his first postseason victory since Game 2 of the NLDS when he was with the Dodgers.
It does appear the Rays are going to win this series. The question is: will they put it away tonight? I think so. Glasnow has been overpowering thus far and the Astros just can't seem to get the ball in the air. Houston came into this series with a lot of confidence and the Rays have quickly shot that down. Look for Glasnow and the bullpen to put this away tonight.
Check out who Bobby Babowski has on his Free MLB Picks page for today.
Pick: Rays -146