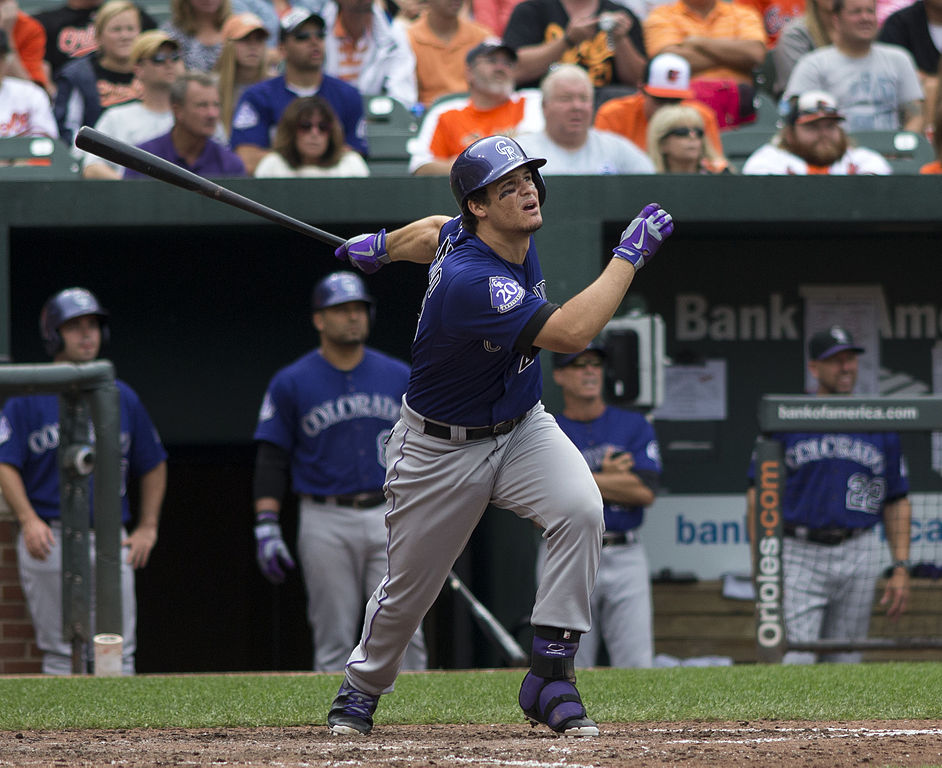 The 2018 MLB All-Star Game takes place Tuesday, July 17th from Nationals Park in Washington, DC, and the rosters for both leagues have been announced. There are 25 first-time All-Star selections this season. The American League side is stacked with a ton of power led by Aaron Judge and J.D. Martinez. The National League has two very nice surprises in outfielders Nick Markakis and Matt Kemp. The Cubs, Braves, and Red Sox all have two starters, but Boston could make it three if they decide to start Chris Sale. Be sure to check our Free MLB Picks page for our preview and prediction on July 17th.
2018 MLB All-Star Game Starters

| AL | POS | NL |
| --- | --- | --- |
| Jose Abreu, CWS | 1B | Freddie Freeman, ATL |
| Jose Altuve, HOU | 2B | Javier Baez, CHC |
| Manny Machado, BAL | SS | Brandon Crawford, SF |
| Jose Ramirez, CLE | 3B | Nolan Arenado, COL |
| Wilson Ramos, TB | C | Willson Contreras, CHC |
| Mike Trout, LAA | OF | Bryce Harper, WAS |
| Aaron Judge, NYY | OF | Nick Markakis, ATL |
| Mookie Betts, BOS | OF | Matt Kemp, LAD |
| J.D. Martinez, BOS | DH | N/A |
Below are a list of reserves, with one spot open to each league in the Final Vote ballot. Those players for the American League are: Andrew Benintendi (BOS), Eddie Rosario (MIN), Jean Segura (SEA), Andrelton Simmons (LAA), Giancarlo Stanton (NYY). For the National League: Jesus Aguilar (MIL), Brandon Belt (SF), Matt Carpenter (STL), Matt Muncy (LAD), Trea Turner (WAS). One from each league will complete the All-Star rosters.
National League Reserves

BATTERS

PITCHERS

Paul Goldschmidt

Max Scherzer

Joey Votto

Jacob deGrom

Scooter Gennett

Jon Lester

Lorenzo Cain

Aaron Nola

Christian Yelich

Josh Hader

Eugenio Suarez

Kenley Jansen

Ozzie Albies

Patrick Corbin

Buster Posey

Sean Doolittle

J.T. Realmuto

Mike Foltynewicz

Trevor Story

Brad Hand

Charlie Blackmon

Miles Mikolas

Felipe Vazquez

* Will start for injured Giancarlo Stanton
American League Reserves

BATTERS

PITCHERS

Michael Brantley

Justin Verlander*

George Springer

Trevor Bauer*

Mitch Haniger

Corey Kluber

Francisco Lindor

Chris Sale

Nelson Cruz

Luis Severino

Alex Bregman

Gerrit Cole

Gleyber Torres

Edwin Diaz

Shin-Soo Choo

Jose Berrios

Salvador Perez

Aroldis Chapman

Mitch Moreland

J.A. Happ

Joe Jimenez

Craig Kimbrel

Blake Treinen

* Bauer will take Verlander's roster spot