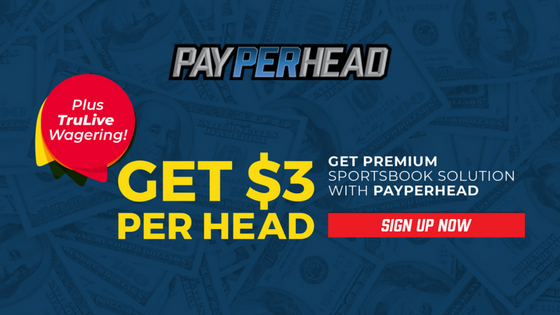 Utilizing the best sportsbook software helps online bookies stay profitable and grow their sportsbook business at a steady rate.
When bookies offer their premium live wagering software to clients, they gain the advantage to either double or triple their profits.
PayPerHead.com offers a first-class, industry-leading sportsbook management software that agents need to grow their business and online sportsbook empire.
Currently, PayPerHead.com is offering their Prime Package for just $3 per head, helping bookies and business owners to obtain steady profits and capitalize on this NFL season.
However, the deal doesn't stop there.  PayPerHead.com is also adding TruLive Wagering FREE for 1 month. The addition of the TruLive Wagering software will teach online bookies the type of success they can achieve with a top-of-the-line and premium live wagering software.
Sign Up Now and Start Your Free Demo Today!
What Is TruLive Wagering?
PayPerHead offers the best rates for a premium live betting service that can double or triple your current sportsbook profits.
PayPerHead's TruLive Wagering isn't your average live wagering offered by other sportsbook software. Being a non-third party platform means that there's not network lag, no losing bets, and no changes being made last minute.
When you choose PayPerHead.com, you gain access to the largest betting selection within the industry, with access to 1000's of games in over 80 leagues.
Plus, with full mobile access, your players can bet anytime, anywhere, on virtually any sport. 
Being a platform that is widely available across multiple devices allows online bookies to make more cash on every player.  The team at PayPerHead.com provides their agents with the best support and innovative tools and features.
They're willing to prove it to new agents with offering their Prime Package at just $3 Per Head with 1 Month FREE Access to TruLive Wagering.
Why The Prime Package?
PayPerHead's Prime Package offers industry-leading PPH tools that assist bookies with achieving their business goals and create steady long-term profit.
PPH Tools & Features:
A Highly Customizable Dashboard: See & Manage everything you need in one place
Mobile Betting + Mobile Friendly Website: Players can bet anytime, anywhere.
Multiple Casino & Horse Profiles: Maximize profits with customizable pre-set profiles.
VIP Support 24/7 Everyday in 3 Languages: English, Spanish, or Mandarin.
Mass Edit Lines and Limits: Strategically promote specific games or leagues.
TruLive Wagering on 1000+ Events: Keep players exploring betting options, all year. (1 Month Free when you sign up today!)
BetAlert Tool: Instant Player Betting Notifications to monitor a mitigate risk on the go.
In-Depth Reporting Options: Understand your players' habits, send the right marketing messages with proper intel.
Zero Cryptocurrency Transaction Fees: Plus, 5% credited cash back if you make your first deposit with Cryptocurrency. (Bitcoin, Litecoin, Etherium, and now Ripple!)
And Even More…
Choosing PayPerHead allows you to stay competitive with the bigger guys. Being on the PayPerHead team allows you to offer the most betting options, giving you the opportunity of a lucrative full-time online bookie business.
SIgn-Up for PayPerHead's Prime Package Now
Being an online bookie, you need the best team on your side when you're looking to expand your sportsbook business and master the industry.
You need a pay per head software that works as hard as you do.
Sign up for PayPerHead's Prime Package and gain access to industry-leading PPH tools and 1 Month free access to TruLive Wagering.
After 20 years of industry experience, the PayPerHead expert team knows how to keep sportsbook businesses thriving.
They want their agents to keep their money where it belongs—in their wallet!
Speak To A PayPerHead Rep Today and Become a Master Online Bookie Agent.