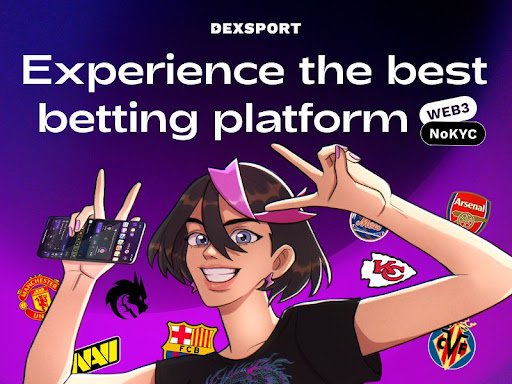 Looking for a smooth and convenient way to make your sports betting experience even better? Are you tired of facing issues when trying to withdraw your winnings from multiple betting platforms? If you haven't heard of blockchain-based betting services, then you're in for a treat. These technologies have the potential to revolutionize the way we make predictions about real-world events and bet on our favorite sports teams.
With blockchain-based betting, everything is done on the blockchain. This offers enhanced levels of security, transparency, and automation compared to traditional betting, where most processes are manual and on centralized platforms that can be prone to security breaches.
Enter Dexsport, the world's first blockchain-powered betting platform. Dexsport is a user-friendly Web3 betting platform with audited smart contracts and low commissions and fees. This decentralized protocol is built on the Binance Smart Chain, with operations extended to the Polygon, OKC, and Avalanche blockchains. By leveraging the power of blockchain technology and smart contracts, Dexsport creates a reliable environment where bettors can securely interact with each other. This will help them not have to worry about their privacy.
Dexsport's shared pool of liquidity allows users to deposit into the pool when making bets, and winnings are taken from the pool instantly. In the case of losses, the deposits remain in the pool. What's even better is that Dexsport supports 15 major cryptocurrencies spread over multiple blockchains, including the $DESU token, which is native to the platform. With low transaction fees and fast payouts, betting has never been so easy and convenient.
Besides sports betting, Dexsport has fast-paced games like Dex Dice and Crash X. Games like these have great graphics and animation, so they're fun and compelling when there's no sports betting.
Betting with Dexsport is a game-changing experience that provides numerous advantages for sports enthusiasts and prediction experts alike. With its use of blockchain technology, smart contracts, and decentralized protocols, Dexsport guarantees an unparalleled level of security, privacy, transparency, and speed. Here are some of the ways that Dexsport is revolutionizing the world of online betting:
Smart contracts for fair play
Dexsport's integrated smart contracts ensure that all bets and payments are processed securely and fairly, without any need for intermediaries. By enforcing rules agreed upon by all parties before placing a bet, smart contracts create a level playing field that promotes transparency and trust. With Dexsport, you can be sure that your bets are always processed in a timely and trustworthy manner.
Unmatched security and privacy
Dexsport leverages the power of blockchain technology to provide an unmatched level of security and privacy for its users. By connecting only your decentralized wallet, you can bet on any sports match while keeping your personal and financial data encrypted and safe at all times. This means that you have сomplete control over your funds without worrying about security breaches or data leaks.
Transparency at the heart of Dexsport
Dexsport is committed to providing full transparency for all bets and transactions carried out on its platform. With its use of smart contracts, you can check the results of any transaction quickly and easily, ensuring that odds and winnings are always fair and convenient. You can always count on Dexsport to honor your wins and payouts without any hidden fees or centralized business structure, unlike traditional bookies.
Near-instant transactions for faster payouts
Dexsport's decentralized protocols enable near-instant transactions between players, ensuring fast and hassle-free payouts. With blockchain technology, you no longer have to wait for days or weeks for your winnings to arrive. Instead, you can enjoy the benefits of instant payments, ensuring a seamless and enjoyable betting experience.
The DESU token
The DESU token serves the fuel that powers Dexsport. Users utilize it for transactions with each other and for betting. With it, you can bet on sporting events, get early access to upcoming events, earn better commissions and rewards, get discounts on bets, and even vote on the platform's development.
But how do you get your hands on DESU? You can buy it directly on PancakeSwap or Kanga exchange, or you can earn it through frequent giveaways on Dexsport or referral bonuses. And if that's not enough, there are plans to launch DESU staking in the near future.
So, how do you start betting on Dexsport? It's easy! Just head to Dexsport.io and click on "Sign in." From there, you can link your decentralized Web3.0 wallet (Dexsport recommends MetaMask) containing supported cryptocurrencies. And since there's no registration or KYC process, you can start betting right away and focus on the exciting experience of placing bets on your favorite sporting events.
Overall, if you're a crypto enthusiast or sports bettor who values privacy, security and seamless online betting, then Dexsport is the appropriate platform for you. Revolutionary blockchain technology allows you to place bets on a diverse range of sports events from anywhere in the world using cryptocurrencies. Whether you're into soccer, tennis, basketball, boxing, MMA, esports or any other sport, Dexsport has you covered.
With a plethora of features, it's no surprise that Dexsport is becoming the go-to betting platform for many. Join the platform today for an unparalleled betting experience. Check out the official website and social media channels (Telegram, Twitter, Facebook, etc.) to learn more about Dexsport, and don't forget to take advantage of the ongoing referral program.