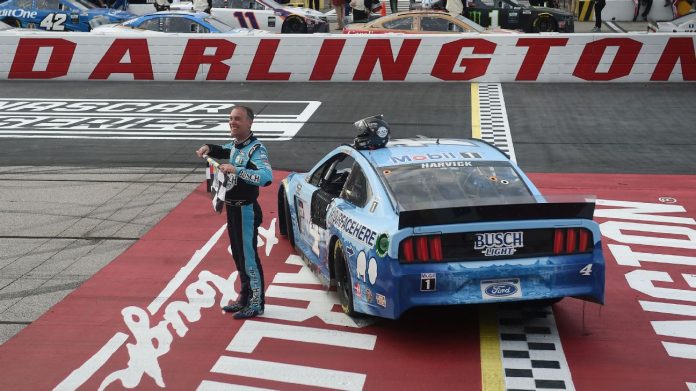 Coca-Cola 600
When: Sunday, May 24th, 2020
Where: Charlotte Motor Speedway
Concord, North Carolina
Betting Odds: Lines&Odds
NASCAR continues to ramp-up their events with another race this Sunday from Charlotte Motor Speedway – the Coca-Cola 600. Last weekend in Darlington, South Carolina at The Real Heroes 400, Kevin Harvick claimed his first checkered flag of the 2020 season edging out Alex Bowman – as we predicted. Harvick started from the number six position and led for 159 laps out of 293 for his 50th career win and was +650 on the odds board.
Click Here to Bet the Coca-Cola 600
This will be the 61st running of the Coca-Cola 600. The Concord, North Carolina track will be 400 laps (600 miles) in length. The defending champion is Martin Truex Jr. and he's currently one of the favorites at Bovada with +550 odds.
Harvick enters the race as the second favorite paying +550 to win the event. He's finished in the top five position in three out of four races this season. Kyle Busch is the favorite currently at +400.
Coca-Cola 600 Odds:
Kyle Busch +400
Kevin Harvick +550
Martin Truex Jr +550
Jimmie Johnson +1600
Johnson is in his final year of NASCAR and is looking to rebound after last week where he bowed out of the race on the final lap of stage one. Johnson is a three-time winner of this event winning it for three straight years between 2003-2005 but is a long shot to win (+1600). Johnson's 83 wins tie him with Cale Yarborough for sixth-place all-time.
Click Here to Bet the Coca-Cola 600
There are many more Coca-Cola odds and props at Bovada Sportsbook, so head on over and get your free $250 Deposit Bonus and enjoy the race.
Pick
Let's stick with Harvick again in this one at +550. He's on a nice little run right now and has won this race twice in the past.