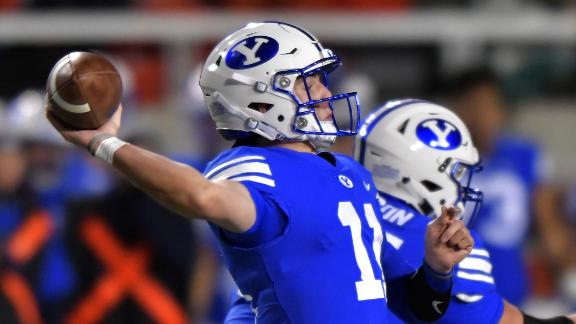 BYU (4-0) at Houston (1-0)
When: Friday, October 16th, 2020
Where: TDECU Stadium,
Houston, Texas
Time: 9:30 ET | TV: ESPN
Opening Odds: BYU -4.5/60.5
It's Cougars vs. Cougars Friday night as BYU visits Houston for a non-conference tilt under the Texas lights. BYU has the advantage by playing four games already and are looking to start the season 5-0 for the first time since 2008. The 14th-ranked Cougars (BYU) have played a pretty easy schedule thus far, winning the first three by an average of 41.3 points before a hard-fought 27-20 victory over UTSA on Saturday.
Houston has played just once since the season began and that was a 49-31 home triumph over Tulane on Oct. 8. The delayed start was due to games against Washington State, Rice, Baylor and North Texas being canceled due to various COVID-19 reasons, while a game with Memphis was postponed and rescheduled for later in the season. Houston looked rusty from the start in the win over Tulane, committing four of its five turnovers in the first half before cruising in the second half.
BYU has won the only two meetings between the Cougar teams – 47-46 at Houston in 2013 and 33-25 in Provo the following year. BYU is 11-5 ATS in their last 16 away from home, while Houston is 21-7-1 ATS in their last 29 home games as an underdog.
BYU junior quarterback Zach Wilson is having a big season so far, picking apart the lesser competition. He has accounted for 14 touchdowns (eight passing, six rushing), while throwing at a sizzling 81.2 percent completion percentage for 1,241 yards and just one interception. Sophomore running back Tyler Allgeier has helped ease the load by rumbling for 391 yards and four scores with a 7.4 yards per carry average. BYU's offense ranks fifth in yards (556.8) and sixth in scoring (43.8). The defense ranks fourth in both total defense (250.5) and scoring defense (11.0). The unit is led by senior linebacker Isaiah Kaufusi and sophomore middle linebacker Keenan Pili, who have 24 tackles each.



Houston ranks first in the nation in total defense (211.0), but they also have only one game to go on. Slowing down the BYU offense will be more of a challenge this week. Senior defensive end Payton Turner was the star last week with 4.5 tackles for loss, including two sacks. On offense, wide receiver Marquez Stevenson had five receptions for 118 yards and one touchdown against Tulane. It was his ninth career 100-yard performance. Stevenson also returned a kickoff 97 yards for a touchdown – the third of his career. Quarterback Clayton Tune passed for 319 yards and two touchdowns, but was also picked off twice in last week's win over the Green Wave.
We know BYU can score points, but I've been more impressed with their defense. Houston is still a little rusty from not playing any games until last week, so I'll take the Cougar team with more momentum in this one.
Pick: BYU -5