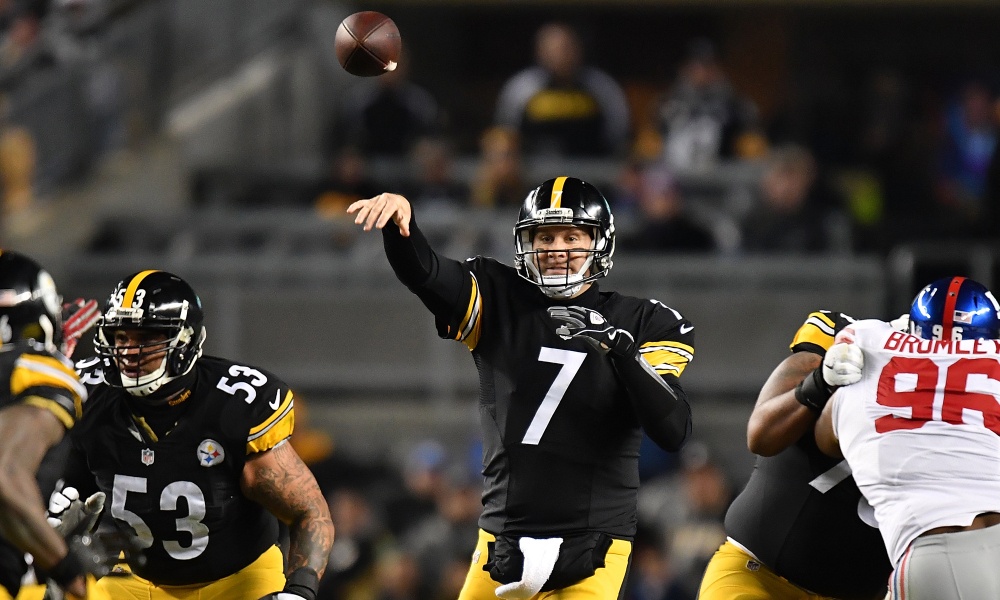 Cleveland (7-8) at Pittsburgh (7-7-1)
When: Monday, January 3rd 2022
Where: Heinz Field,
Pittsburgh, PA
Time: 8:15 ET | TV: ESPN
Opening Odds: Cleveland -2.5/40.5
The final regular season Monday Night Football game takes place this week from Heinz Field in Pittsburgh, as the Steelers host the Cleveland Browns in what is basically an elimination game. Both teams are on the outside looking in and need some help over the final two weeks to make it into the top seven in the conference. The Steelers are currently sitting in 11th place in the AFC, while the Browns are 12th. Neither has a real shot at catching the AFC North-leading Cincinnati Bengals (9-6). Six AFC teams have at least nine victories and four others possess eight wins. There is a strong possibility that this will be the final home game of Steelers quarterback Ben Roethlisberger's illustrious career. The future Hall of Famer hinted at that earlier this week. "Looking at the bigger picture, I would say that all signs are pointing to this could be it," he said Thursday. Roethlisberger's team has lost four of six to almost drop out of contention after last week's 36-10 loss at Kansas City.
The Browns are slumping also. Cleveland has dropped two straight contests and three of their past four. Each of their last two setbacks were by two points – Las Vegas and then Green Bay last week (24-22). Quarterback Baker Mayfield was picked off four times in the loss at Green Bay, and his wife, Emily, said her husband received death threats after the contest. Mayfield passed for 225 yards in a 15-10 loss to the Steelers on Halloween, when Pittsburgh scored the final 12 points. It was an ugly game that saw Roethlisberger pass for 266 yards and the go-ahead touchdown. Big Ben is 24-3-1 as a starter vs. Cleveland after that win, which the Steelers did without a kicker in the second half due to injury. The Browns are 3-point favorites with a total of 41.
The AFC North is so tight that the last place Browns could still win the division or miss the playoffs entirely. To win the division, the Browns would have to win their last two, have the Bengals lose-out and have the Ravens and Steelers each lose once, making Monday's game that much more important. The Browns are eliminated with a loss Monday. The biggest problem for the Browns this season has been the play of Mayfield, but he has been banged-up all season. Mayfield has 15 touchdown passes against 11 interceptions and has been booed at home for the first time in his four-year career. Cleveland activated four players from the COVID-19 protocol on Thursday, including center JC Tretter. Myles Garrett (groin) was limited in practice this week while running back Kareem Hunt (ankle) was among the Browns who sat out.



Pittsburgh is in the same position as Cleveland. To win the North, the Steelers must beat the Browns and then win at the Ravens in Week 18 while having Cincinnati lose Week 17 vs. Kansas City and Week 18 in Cleveland. Because of the tie with the Lions earlier this season, the Steelers would win a tiebreaker at 9-7-1 over any 9-8 team in the conference. They would be eliminated with a loss Monday. Pittsburgh has been playing from behind a lot lately, trailing by at least 23 points in three of their last five games. They have been outscored 97-9 in the first half of their last five games have been held without a first-half touchdown for five straight games. Roethlisberger ranks fifth in NFL history with 63,721 passing yards and eighth with 416 passing touchdowns. This season, he has passed for 3,373 yards with 20 touchdowns and eight picks.



This is it for Big Ben and he'll want to go out on a high-note. He and the Steelers have owned Cleveland since he came into the league. Granted, the Browns were awful for decades, but this still seems like the same 'ol Cleveland team that can't win close games. I'll take the points in what could be another ugly game.
Pick: Steelers +3.5
Week 17 Staff Selections