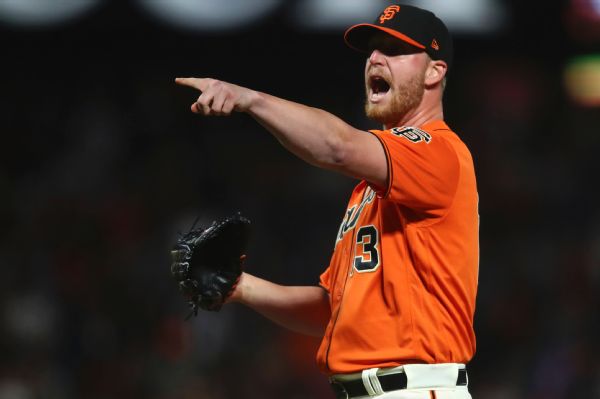 Is Will Smith, who pitches for the Giants, one of the best closers in baseball? Well he does have the best results, even if he doesn't have the best closing ERA, or the most save, or has even pitched the most innings, but he still qualifies as one of the best closers freetips.com reports today.
Using a statistic called xwOBA (expected weighted on-base average), Statcast has a unique way of calculating it. xwOBA is an extension of the standard wOBA stat used everywhere, but it also takes into account extra dimensions such as launch angle, exit velocity and sprint speed to give a more realistic measure. We need to understand this stat in order to know why Smith is so good.
"wOBA is a version of on-base percentage that accounts for how a player reached base — instead of simply considering whether a player reached base. The value for each method of reaching base is determined by how much that event is worth in relation to projected runs scored (example: a double is worth more than a single). "
The way that Smith pitches means that hitters are simply struggling to do anything with his balls. His xwOBA is .208 which leads all pitchers. So he is either just that good or very lucky. If you compare this with a pitcher like Ryan Pressly who is undoubtedly good, his xwOBA is only .220. And that is following an impressive scoreless streak of forty games, and he has an ERA of 0.66. However, Smith only pitches from the ninth innings, and then only when his team is winning. i.e. He is a traditional closer, which means he hasn't appeared that often and his ERA is only 2.38, placing him just seventh in the top ten pitchers.
Switching to the K/B|B stats Pressly clearly outshines Smith easily. Despite them being one and two in the table. Smith only has a K/BB of 8.00 to Pressly's 16.00 with everyone else trailing close behind Smith. This makes Pressly a clear leader; however, this is unfair as Pressly isn't a closer, therefore you can easily discount Pressly from this chart.
Smith's play is solid. He gets base outs without balls being put into play, and he limits base runners too. What this means is that whenever balls are getting put into play, they aren't hit hard. Smith's stats may only be based on more of a sample size rather than a full season. However, it is hard to argue with the facts. He is a leader in multiple categories, and in particular in quality of contact, which is what is most important.
While the Giants continue to struggle, they can take comfort in the fact that they have Smith, and they should continue to celebrate one of the team's best players and make the most of him while they have him. His moment in the spotlight means that when it comes to trade time what it does mean is that they have a valuable asset to offer, and they need to make the most of it and celebrate his talent.