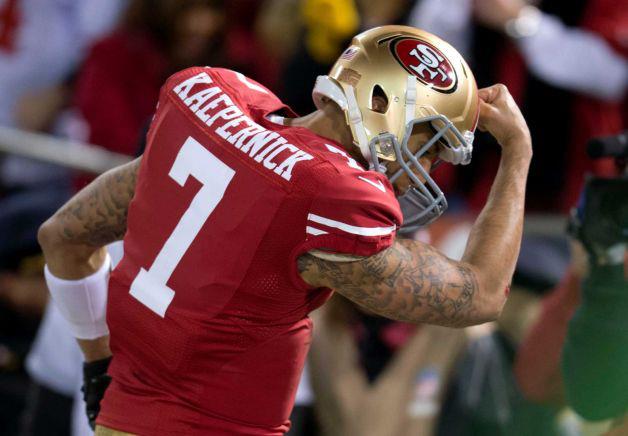 The most recent – and highly controversial – Nike advert starring Colin Kaepernick, says "believe in something, even if it means sacrificing everything". It's one of those sharp, cool slogans that makes a brand seem edgy, and sells sneakers and shirts. Everybody understood the undertone of the message. Even people who've never watched an NFL game know who Kaepernick is, and his role in the kneeling protests that never stop generating headlines every time the national anthem is played before a football game.
The problem for Kaepernick is that the slogan has become literal. There's no doubt that he believes in his cause, but in terms of his football career, it may just have proven to cost him everything.
Out in the cold
He will, of course, have been paid handsomely for the use of his likeness in the commercials, but as a pro football player, you have to believe that in his heart of hearts he just wants to be out on the field, playing the sport. At 31 years old, he's running out of 'prime years' left to do just that. Ever since he made his stance, and opted out of his San Francisco 49ers contract to become a free agent in March 2017, Kaepernick has been without a team. This isn't the way he expected things to pan out.
The quarterback was expecting there to be several prospective parties interesting in acquiring his services for the season to come. There weren't. The anthem protest issue has tortured the NFL, with pressure from the Presidency to take disciplinary action, appeals from civil rights groups to let the players act according to their own conscience, and a total split of opinion among the fans. The debate has been connected to everything from perceived falls in TV ratings to queries about how much players are paid, and Kaepernick, as the originator of the protest, is now the poster boy of the problems. Unlike his Nike adverts, that isn't a role that he gets paid for.
The player himself believes that he's been the victim of a conspiracy; it's his take that whilst several NFL owners are afraid to publicly speak out and criticize the protests for fear of bad press, privately they're against them, and now they're freezing him out of the game as an act of retribution. He's even filed a grievance against the league for this alleged conspiracy, which is now waiting to be heard at court. That's a legal process that's going to take time, and for the time between now and then, it seems like Kaepernick might be on the outside of the sport, looking in.
No room in Washington
Early in December, it looked like the Washington Redskins might be the place for him to resume his career. First choice quarterback Alex Smith broke his leg in November, and won't be back any time soon. Back up Colt McCoy was unfortunate enough to suffer the same injury playing against the Philadelphia Eagles on December 3rd, leaving a gaping hole in the Redskins team. With Kaepernick out there as a free agent and a competent and capable player he was surely the obvious choice to fill the hole; at least for a while' but the Washington team issued a statement on December 5th saying that whilst his name had come up in discussions, he wasn't being considered for the vacancy. That's got to sting.
When you're a player who was once regarded highly, and you don't get a phone call from a team who are down to their third best quarterback, you know your career is in serious jeopardy.
Rolling the dice
So if the Redskins won't take him on, what chance does Kaepernick have of ever playing the game again? Rightly or wrongly, he's been put in a corner by the protest that he ignited, and whether through spite or through might it does seem like he's being blackballed from the sport. Suing the league for collusion is unlikely to help his cause either; he's not going to win the support of NFL team owners by taking them to court.
Signing Kaepernick would be a gamble for any team as things stand. You might as well hit a UK slot game website and make your way the virtual roulette table, or spin the virtual reels on the online slots. When a player plays one of those games, they're hoping that the elements line up for them, and they find a winning line that's going to pay out and make them some money. It's a combination of luck and judgment that makes you a profit from a slot game. Unfortunately for Kaepernick, it would seem that the judgment of those making decisions on NFL rosters is that he isn't going to bring them any luck.
Sticking with the theme of gambling, how's this for an outside bet? Kaepernick might attract headlines and controversy wherever he goes if he does find a way back into the sport. The majority of NFL teams may have decided that they don't want to invite that kind of publicity to their front door, but we know someone who might.
In 2020, the XFL starts up again. That would be the football league belonging to eccentric billionaire Vince McMahon; the same man who brought us WWE wrestling. He failed with the experiment once in 2001, but has decided the time is right to bring it back with fewer gimmicks and introduce it to a new audience. McMahon, for decades, has been someone who thrives on the unusual, the loud, and the attention-grabbing. Nothing would make more mainstream headlines for his new league than announcing that one of his teams – it's worthwhile noting that McMahon is the owner of every team in the new league – has made Kaepernick their marquee signing. He'd be 33 by then, but given the presumed lower quality of the football that will be played there, that shouldn't be an issue.
Kaepernick, with his charisma, his controversy, and his penchant for drama, playing in a league managed by the man who gave the world Hulk Hogan, the Rock and Stone Cold Steve Austin. It's a match made in heaven.