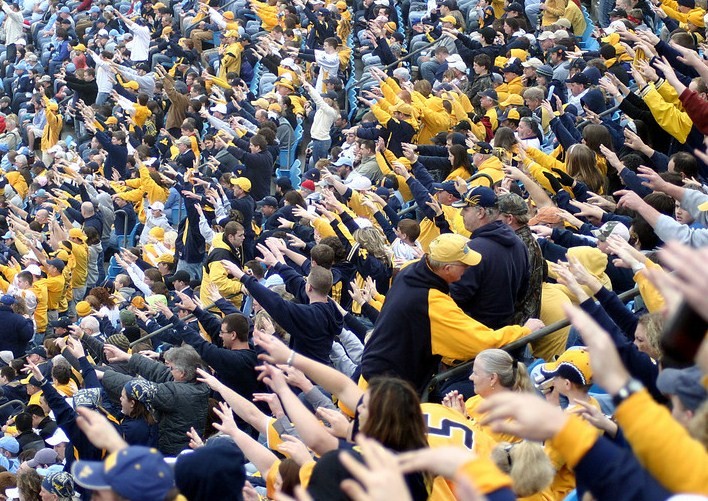 There are times in life when you must get off the sexy and get real. Find a game that pays, find a game with value. Just because its sexy doesn't mean it's a money maker. As a gambler, you look for value, you look for a winner. It may be on TV, it may be the publics favorite and it may be a favorite for the talking heads on the big networks. That doesn't give it value! Value is gained by what teams have done and who they are playing. This week we offer you a value pick. Check it out and be sure to check out the latest odds from your favorite online sportsbook.
West Virginia @ Kansas
Here is what West Virginia brings you:
A bunch of hard hitting, home grown mountain boys that show up every Saturday to ball. The question of the year is this: Why is West Virginia not a top 25 team? Pure stupidity keeps them off the top 25! Plain and simple. These guys can hang with nearly anyone in the top 25 and they will continue to bury bad teams. If you have friends that like to play against you; then now is the time to consider a pay per head service.
Want proof?
WV QB Will Grier— CMP 69, ATT 105, YDS 1027, CMP % 65.7, TD's 11, INT 2.
WV Rushing Justin Crawford— CAR 43, YDS 326. Justin Crawford accounts for nearly half of the teams rushing yards, however Kennedy McKoy follows suit nicely with 19 attempts and 99 yards, for an average of 5.2 yards per carry. This week will prove to be an excellent opportunity to get great prop odds on West Virginia or quite possibly an alternate spread. Check out your online sports book for the best odds.
The Mountaineers lost their season opener to #21 at the time; Virginia Tech. 31-24. This game was nails and WV nearly pulled it off. The effort from WV was an impressive one to say the least.
What have they done since?
East Carolina: W 56-20
Delaware State: W 59-16
West Virginia has given up 20 ppg and scored 48.6 ppg.
This is where you would usually hear that the other team is no slouch and yada, yada, yada… Not this time, you won't hear that kind of dribble! Kansas is a slouch and they will not compete in this game! If you are looking for a game with value; this is the game and West Virginia is where you should spend your hard-earned money. The best bookies, worth their salt, will tell you the same.
For sure; there are a lot of sexier options this week. Those big TV games like Alabama, USC, and others—
Stop the madness and start beating the bookie. You come every week to win big money and you want value. You will find it in this game. West Virginia will earn their place in the top 25 this week. Look for live lines in this one, follow it closely; there should be value in the live-over the total.
Prediction: West Virginia -22