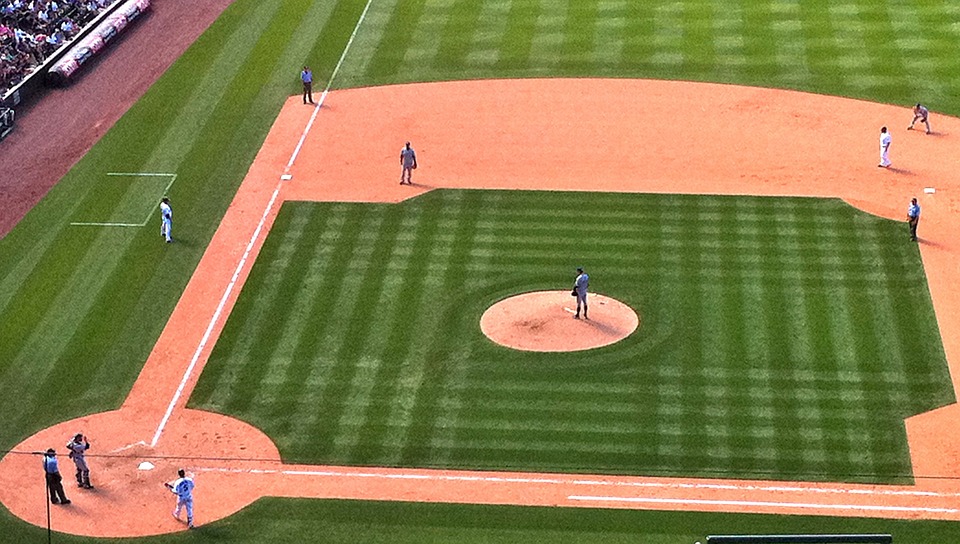 Another week down in the 2009 MLB season, but first, an apology. I promised an interleague preview late last week, but due to a broadcasting commitment with the Atlantic 10 Conference Baseball Championship, I was unable to crank out said preview. Thus, we shall turn this week's column into an interleague recap. After all, there were some intriguing series this past weekend that may have showed a great deal about certain ball clubs and where teams match up against their cross-league counterparts. Here are four series that might help show some teams' strengths and weaknesses.
1) Phillies @ Yankees
The defending champion Phillies appear back on track, taking 2 of 3 from the Yanks in the Bronx. Game three was especially important, as starter Cole Hamels finally strung together back-to-back impressive starts. I watched him pitch live in Cincinnati on Tuesday, and the break in his change up is back, meaning he's close to returning to All-Star caliber form. The issue here is still Brad Lidge, who blew 2 saves over the weekend, including Hamels' start on Sunday. His fastball is flat and his slider is a gradual drop as opposed to the sharp break of '08. That needs to change and fast or it won't matter how well Cole, or any other starter, pitches.



The Yankees, meanwhile, have to be disappointed with their weekend. They threw their top 3 starters (Burnett, Pettitte, and Sabathia) and only came away with one win. That's certainly not the way they wanted to end a homestand that saw the Bombers straighten out their season with seven straight home wins prior to Friday. The two comebacks against Lidge do have to give this team some confidence that they're never out of a game, something the late 90's and early 00's teams always had. The next two weeks become huge for NY, with 6 games against Texas and a four game trip to Cleveland. A minimum of 6-4 and we can put the Yanks right back into the "Best team in the AL" discussion. Anything under .500 and they lose all of the momentum gained against Toronto, Minnesota, and Baltimore the past two weeks.
2) Angels @ Dodgers
The Dodgers came out of the first month and a half as the team to beat, despite the Manny saga. Then last weekend happened, which has to leave them scratching their heads. Clearly, the Angels are not the same team as they have been, with Vladimir Guerrero, John Lackey, and Ervin Santana all missing large portions of the season. The bullpen has been brutal, namely setup men Scot Shields and Justin Speier, and closer Brian Fuentes hasn't exactly been lights out. Yet despite all of that, the Angels go into Dodger Stadium and win 2 of 3, losing their only game in ten innings. That can't bode well for the confidence of Torre and Co., especially coming off a sweep of the Mets. The clincher came Sunday, when LAD jumped out to a four run lead only to watch LAA respond by knocking Chad Billingsley around, arguably the Dodgers best starter.
The Dodgers now have a seven game road trip to Colorado and Chicago, two teams struggling mightily. It'll be pretty clear whether this was simply a bad weekend and bad matchup, or if they're coming back down to Earth after an other-worldly start. For the Angels, it's about continuing momentum and (hopefully) getting Vlad back in the next week or so. The lineup has been hitting, especially Torii Hunter, in his absence, and if the pitching continues to come around, the addition of Guerrero's bat back into the Angels lineup could provide the emotional lift this team still needs after their tragic start to the season.
3) Mets @ Red Sox
It's not often you see a team missing its first baseman, catcher, starting shortstop AND backup shortstop take a series from a team with a full lineup, but the Mets accomplished that this weekend and put an end to their 4-game skid at the end of their west coast trip. Santana still didn't get defensive support Friday night, but Boston watched as a rusty Dice-K coughed up what was a winnable game. Closer Jonathan Papelbon blew Saturday's game, allowing a 2-run HR to backup catcher Omir Santos that changed a 2-1 Sox lead into a 3-2 Mets win. Sunday seemed a bit more like Red Sox baseball, as they pounded NY and starter Tim Redding for a 12-5 win. So after those results, what do we know about each team?
For the Mets, we know they can still win games in which they don't play well and trot out an injured and sub-par lineup, but the starting pitching is still at least one quality starter short. They cannot compete with Philly or Atlanta unless John Maine returns to 2007 form or they trade for someone like Jake Peavy or Cliff Lee. A rotation of Santana, Pelfrey, and three question marks wouldn't be enough even with Carlos Delgado, Brian Schneider, and Jose Reyes all healthy. Without them, this is a third place team at best, even if they keep treading water for a little while.
For the Red Sox, they, too, need pitching, but it should come in the form of Friday's starter continuing to get healthy. Matsuzaka wasn't sharp in his first start, but that will develop as he throws more innings. If Dice-K, Beckett, and Lester all improve to even their career average years, then the burden lessens on the ageless Tim Wakefield and forces Brad Penny to fight to keep his spot in the rotation over Justin Masterson. The other thing that would help the pitching staff: David Ortiz discovering his hitting stroke. Hitting .195 with a homer and 18 RBI isn't going to cut it in the talented AL East.



4) Indians @ Reds
The battle of Ohio is always one of the better series of interleague play, even if it's rarely covered by any national media. The Reds used an RBI double by shortstop Alex Gonzalez – the same guy who was hitting .206 heading into the series – to steal a 4-3 win Sunday and take the series. Gonzalez raised his average to .225 in the series alone, and if the Reds can get anything from him offensively, it would be huge. They currently have no one hitting .300 in their everyday lineup, and now their best right-handed hitter, second baseman Brandon Philips, could be out for a significant amount of time with a broken thumb. This team needs to get Joey Votto back into the lineup consistently – he returned Saturday after missing a week with dizzy spells to hit two HR, but then sat out Sunday's finale. The pitching seems to be coming around, as Bronson Arroyo tossed 8 innings of 1-run baseball Friday to follow up Aaron Harang's 1-run-in-7-innings performance against Philly on Wednesday. As the offense continues to improve, so does the Reds' chances of hanging around in the NL Central race.
While it is still May, it would take a dramatic turn of events for the Indians to fulfill many a pundit's predictions (including mine) that they would win the AL Central. This is one story that has been overlooked with the feel-good stories in Texas, Cincinnati, Kansas City, Milwaukee, and Toronto (and earlier this season, Florida, Seattle, and Pittsburgh). The Tribe have underachieved tremendously despite another stellar season from Cliff Lee, who has proved to the league that he's more than a one-season wonder. The problem is that 2-5 in the rotation have been brutal. This is a team that has yet to win three consecutive games, is 8.5 games back of Detroit, and now return home for back-to-back four game series with the Rays and Yankees. Aside from the Washington Nationals, who were eliminated from postseason contention on the first pitch of opening day, this might be the next team to be declared "dead" (see below for details on this).
*NEW FEATURE*
The Playoff "Dead" List
Each year on Memorial Day, I begin a ritual of declaring a team's postseason chances "dead." I cannot claim credit for this – it is a straight rip from the greatest sports talk show ever, Mike and the Mad Dog (RIP). Beginning on the final Monday of May, I choose one team each week whom I feel no longer has a chance to make the playoffs, and then put the proverbial nail in the coffin. This list will continue to grow by one team (with no team being added following the series immediately after the All-Star break), and thus heading into the final week of the season there will be 12 teams not on the list to vie for the 8 postseason spots, and I'll make final picks from there. I was perfect last year – let's see what happens this year.
And now, for the first addition to "The 2009 Playoff Dead List," I present to you…
The Washington Nationals!
(I know, really going out on a limb here, right?)
This week, watch for…
1) Scorcher Series – Yankees @ Rangers (5/25-27)
2) Central Showdown – Tigers @ Royals (5/25/27)
3) Playoff Rematch – Dodgers @ Cubs (5/27-31)
Look for my column, "The Tenth Inning," every Monday for the UltimateCapper and check out our Free MLB Picks.