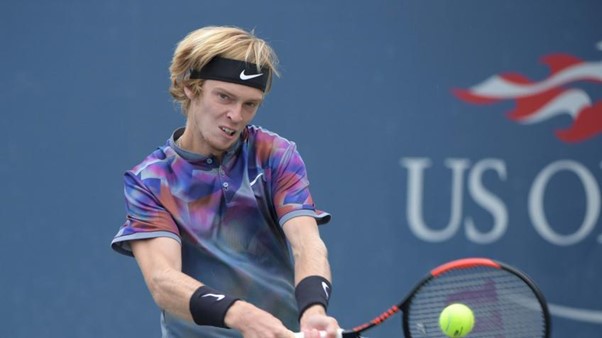 As the St. Petersburg Open 2021 approaches, the defending champion Andrei Rublev gears up to return home to his native land of Mother Russia. The question is, can the 23-year-old swing his way into consecutive ATP Tour St. Petersburg titles?
Andrei Rublev #5
The probability of Russia keeping the St. Petersburg championship title within the grips of a native player is high. With three of the top-six ranked players stemming from Russia, it won't be a simple task for competing countries who're attempting to lift this ATP Tour trophy.
And it's none other than the defending champion, Andrei Rublev, who is favoured to steal the limelight.
Born and raised in Moscow, Russia, the young prospect made himself known when breaking into the top-10 of the ATP Tour this time last year. Since winning the St. Petersburg 2020 championship, his ranking and notoriety continue heading in a positive direction.
Nothing could probably match the self-achievement of winning a championship inside his home country, but Rublev now boasts an impressive eight ATP singles titles – five of which he obtained in 2020. Since his 2020 St. Petersburg success, he claimed the ATP Vienna and ATP Rotterdam titles, placing his name in the top five ATP rankings amongst the world's elite.
Fellow countryman and number two ranked Daniil Medvedev used the St. Petersburg open as a career-launching pad, and Rublev has emulated this path. 2021 has been an outstanding year, winning four ATP 500 titles consecutively, and becoming the Olympic champion in Tokyo puts him as the man to beat at this years ATP Tour in Russia.
Defending his crown on home soil won't come easy. Still, should Andrei Rublev stay in fine form and eventually lift the trophy, he can snatch the #4 ATP ranking from Alexander Zverev and move one step closer to the legendary Novak Djokovic.
Sportsbooks will recognize Rublev's chances of victory and be certain to price his odds correctly. Be sure to utilize the best available odds tracker when following the 2021 St. Petersburg open.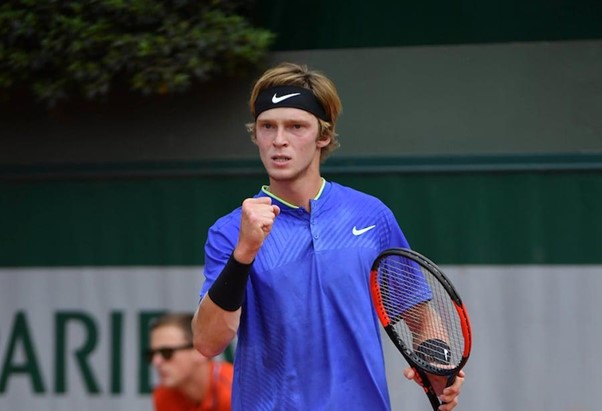 Top Contenders for Rublev's 2020 St. Petersburg Title
We can focus on last year's champion and weigh up his odds, but Rublev will have to tackle some of the world's most fearsome challengers before he can replicate his 2020 fortune.
Denis Shapovalov #13
Canadian born Denis Shapovalov could present a difficult challenge for Rublev. The 13th ranked ATP competitor hasn't managed to break the top-10 rankings, but as the youngster player in the top 30, his room for growth could deliver a championship-winning performance at any point.
With that said, Shapovalov was just sent packing in the ATP Indian Wells at the hands of Aslan Karatsev, another Russian ATP competitor who'll make an appearance at this years St. Petersburg open. It's safe to say; the Canadian will want to avoid an early meeting with Karatsev.
Aslan Karatsev #23
Aslan Karatsev form wasn't looking desirable over the past few months, but a turnaround for the Russian has seen him defeat two top-20 opponents in the previous two weeks.
Eliminating the Canadian Denis Shapovalov will boast Karatsev's confidence when heading into the ATP St. Petersburg and having additional success over number #2 ranked Russian Daniil Medvedev in Rome, makes Aslan Karatsev one to watch.
Karatsev rose through the rankings at a rapid rate; in February 2021, he was ranked 114th. That ranking was quickly left in the dirt when he defeated 8th seed Diego Schwartzman, 20th seed Felix Auger-Aliassime and 18th seed Grigor Dimitrov consecutively. This took Karatsev into the semifinals o the Australian Open as he became the first man in the Open Era to reach a semifinal during his Grand Slam debut.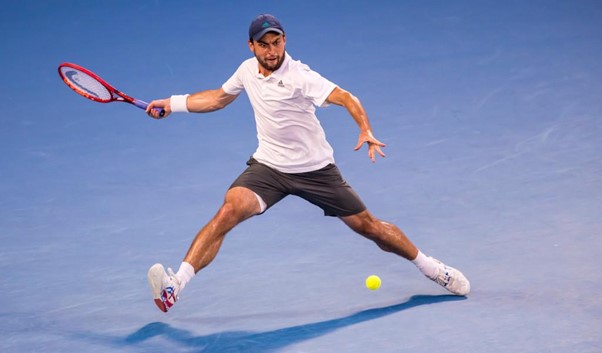 Karen Khachanov #27
The third top-ranked Russian who poses a real threat to Rublev's title is #27 ranked Karen Khachanov. The 25-year-old achieved a career-high ranking of No. 8 when reaching the quarterfinals of the 2019 French Open and has won four ATP singles titles.
Unfortunately for Karen, his form has taken a significant drop since reaching the top-10. When evaluating his statistics, it's clear to see he's far from perfect. His current form from the ATP Indian Wells shows five double faults and a mere 58% of hits from his first serve. This level of performance isn't going to match the levels of those players ranked above him, and his chances of winning the St. Petersburg open don't look tempting to wager on.
Roberto Bautista Agut #18
As one of the older players in the St. Petersburg open, Roberto may struggle to keep up, but he'll undoubtedly own an experience advantage over his opponents. The Spaniard has appeared in eighteen ATP finals and has successfully won nine single titles from those matches.
Roberto was recently eliminated from the BNP Paribas Open in Indian Wells, which isn't the result he wanted, but it will give him time to prepare for the St. Petersburg open. With that said, I'd have to side with youth over experience as the competitors in front of him are young and hungry to achieve greatness.