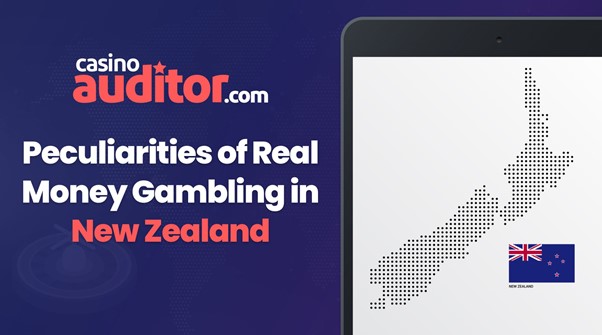 Real money gambling is so popular in New Zealand that this entertainment continues to gain more and more interest from non-gambling population in the country. As the software continues to improve, and the games become more sophisticated and engaging, more people start looking for a reliable online casino NZ to give it a try.
However, real money gambling particularly in New Zealand has several peculiarities that all potential gamblers should keep in mind before they register an account and start playing games. There are a few aspects of access, legislation, and risks to consider in order to make real money gambling if any, as safe and entertaining as possible.
Land Based and Online Gambling
The first thing to remember is that real money gambling is not banned in New Zealand, instead, it is fully regulated, but the difference between land based and online options is impressive.
Those locals (or tourists) interested in land based betting options are limited to slot machines and arcade games, lotteries, betting on sports and racing, or making real money bets on their favourite casino games only in one of the few brick-and-mortar casinos in the whole country. These activities are fully licensed and regulated by the government on the part of operators, and the players are totally protected by the law – everyone can gamble if they are 18 years old and older.
As for online gambling, this is where it becomes complicated.
Local operators of any betting entertainments, or local casino owners in New Zealand are not allowed to run online casino sites that offer their services to locals. Yes, local gamblers cannot play online with local casino sites. This is mainly done by the government to avoid complicated regulations associated with the online casino niche.
As a result, all adult New Zealanders and tourists are free to gamble at online casinos, but only those run by the foreign operators, and offshore companies. This activity is not prohibited, and is almost unregulated by the government. This way, locals have a wide choice of sites to play at, but the problem of licensing and security arises.
Licensing & Security
All land based betting and gambling facilities are licensed by the NZ government, but since all online casinos available to locals are offshore, they are usually not licensed by NZ. This leaves local government with less headache, but this also means that local gamblers are offered less protection of their rights in case of facing fraud, data theft, or other issues.
This is why NZ gamblers must double-check online casino sites to ensure those are licensed by relevant international egaming bodies, tested and certified by independent parties, and have a decent reputation in the web. Otherwise, players may stumble across an attractive online casino only to find out later their sensitive data is stolen, or funds got voided by the site.
Gambling Taxes
At the time of writing, gamblers in New Zealand are not expected to pay taxes on most of their casino or lottery winnings.
In the majority of land based gambling cases, the taxes are already included into the sum of allowed bet, or the cost of the lottery ticket. Exceptions can be made only to impressive wins, either in sports betting or in online casino games, when the win exceeds a certain maximum sum not subject to taxation.
Almost the same situation is with online gambling for real money. Most wins do not exceed the maximum non-taxable sum, and therefore most gamblers never pay any taxes. The only exceptions are, firstly, huge jackpots that get announced by the casino site for promotion purposes, and secondly, professional poker or table games players that make their living by taking part in different online casino competitions and poker tournaments.
Responsible Gambling & Public Health
The information that both offline and online gambling can cause addiction and lead to problem gambling is not new, especially in those countries where gambling is allowed and regulated. However, there is a peculiarity native specifically to New Zealand, connected to the Maori representatives occupying mostly separate lands. One of the points is that the representatives of Maori are regarded as a risk group due to a system of factors, and therefore the public health sector should pay more attention to those communities in terms of problem gambling prevention.