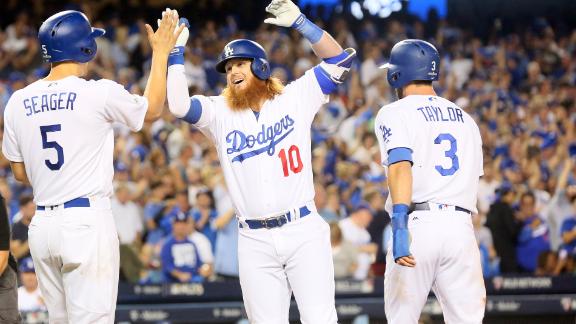 San Diego opens a two-game series against the Dodgers this week with new ace Chris Paddack on the mound. Paddack has a 1.55 ERA and a 6-1 record in his first seven career starts. Paddack is coming off a start against the Mets back on May 6th in which he did not give up a run through 90 pitches and struck out 11. Thanks in part to his masterful changeup, the rookie leads the NL in hits per 9 innings (3.984) and WHIP (0.689).
This will be Paddack's first start against the rival Dodgers, who will be going with Clayton Kershaw for Tuesday's game. So far on the season, Kershaw is 2-0 with a 3.31 ERA. He has had multiple back injuries over the last few seasons and is not quite the same as he was a few years ago when he was the NL ERA and wins leader in 2017. Still, the Dodgers have won all five of the games in which Kershaw has appeared this season.
Given the talent and success of these two pitchers, we are likely looking at a low-scoring game 1.
Padres: +137 money line, o7-115 total, +1½-160 run line
Dodgers: -150 money line, u7-105 total, -1½+140 run line
HRwager has the best baseball wagering odds and live betting lines, all you need to do is sign up right now so you can wager on the game tonight, make a deposit and we will give you a huge sportsbook bonus so you can increase your winnings. Register Here!
Kershaw's last appearance was last Wednesday against the Atlanta Braves. He gave up 4 runs on 9 hits through 6 2/3 innings.
Regardless of how Kershaw has played, the Dodgers are an offensive juggernaut. They lead the National League in runs with 227 and are third in the NL in both hits (394) and batting average as a team (.255). They are led by first baseman Cody Bellinger, who is first on the team in Batting Average (.407) Home Runs (14) and RBI (38). He is also top amongst all MLB players in RBI and BA.
However, to complicate things a bit, the Dodgers are coming off a less than impressive performance against Washington, who is one of the worst teams in the NL so far this season. Game 1 of that series was a 6-0 Dodger loss, but LA bounced back to win 5-0 in game two before splitting the last two games.
These two teams played a three-game series earlier this month, in which the Dodgers won 2 games to 1. The Padres outscored the Dodgers in that series, 17-16 overall. So far in May LA is 7-4.
The Padres are 4 games back of the Dodgers in the NL West with a 22-19 record. They are coming off a three-game series with the Colorado Rockies that they lost 2-1. They have been without rookie sensation shortstop Fernando Tatis Jr, who has been on the 10-day disabled list with a hamstring injury. Tatis Jr has 30 hits and 6 home runs in his first 100 at bats.