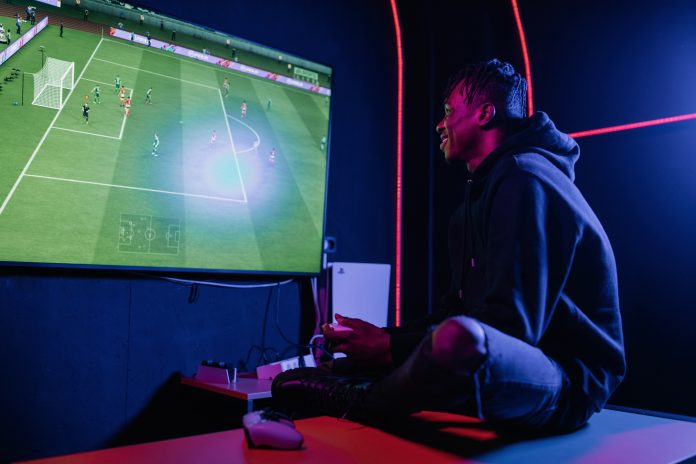 Sports fans who live and breathe soccer enjoy immersing themselves in their favorite sport in whichever way they can. And the options to do exactly that are endless. Besides watching your favorite team compete and following the biggest e-soccer esports tournaments, you can also step onto the virtual pitch yourself. As a soccer fan, you're spoiled for choice with the endless variety of soccer games available on the market. We'll look at titles from different genres for all types of players – from aspiring esports players to casual gamers – who love soccer.
Simulation
It's the king of sports video games and one of the most popular esports titles worldwide: FIFA. The soccer simulator lets you slip into your favorite soccer players' boots and step onto the pitch to get the ball into the net. With thousands of licenses for players, teams, leagues, and tournaments around the globe, EA Sport's simulation is the closest you can get to playing professional soccer without leaving your living room. With FIFAe and various other tournaments, FIFA has a strong esports presence where professional gamers and big soccer teams take it out on the virtual pitch. Note that the celebrated game will be rebranded this year: As EA Sports and FIFA are now going their separate ways, the simulation game will be called EA Sports FC moving forward. According to the developer, the experience will stay true to what fans know and love.
While FIFA is the undefeated number one in soccer simulation games, there is a decent alternative: Konami's eFootball (formerly PES) is another soccer simulator that will let you compete on the virtual pitch. It also includes a number of licensed players and teams you can play as.
Management
If you'd rather watch from the sidelines as you manage and coach your soccer team, Football Manager by developer Sports Interactive and publisher Sega could be the right game for you. Here, you don't control each individual player on the pitch to score goals and win matches. This time, you're in the manager's seat and will have to build, develop, and lead your own soccer team to competitive and commercial success. Take control over a strong team and dominate the championships, or pick an underdog and turn them into a force to be reckoned with through your leadership and strategic skills. You're in charge of transfers, acquisitions, training, strategies, and more. Do you have what it takes to build and lead a successful soccer team?
Besides Football Manager, a variety of other soccer management games have emerged over the years. If you want to build your soccer team on your phone wherever you are, Top Eleven is a popular choice that's available for free on the Google Play Store and Apple App Store.
Casual
Do you prefer simple gameplay to strategizing? Would you rather jump into quick game rounds instead of long championships? There is a whole plethora of soccer-themed casual games available for any type of player. Your app store is a great place to start, with games such as Score! Hero bringing soccer action onto your mobile device. This game solely focuses on the fun parts of soccer: scoring goals. In hundreds of levels, you can aim for the goal, overcome obstacles, and win. If you care less about realistic physics and more about quirky characters and absurd abilities, the arcade soccer game Rumble Stars could be for you, where funny-looking animals fight it out in fast-paced matches.
Even in the realm of classic games, soccer has long found its place. Online casinos offering traditional casino games online have all types of slots with a great variety of topics and themes available in their game libraries. To help players get started, many platforms offer free spins that allow players to play games for free at first. Experts on CasinoBonusCA review and rate some of the best platforms with free spins to help players choose. These casinos offer large libraries of games, some of which depict soccer on their reels. Slots such as 11 Champions, Football Glory, Football Star Deluxe, and more have been inspired by the popular sport and combine soccer with the traditional gameplay of slots.
With an estimated 3.5 billion fans, soccer is the most popular sport in the world. To let fans immerse themselves in their favorite sport at any time, game developers release soccer games of all kinds of genres. From celebrated esports titles to casual games, these games bring the virtual pitch onto players' screens.