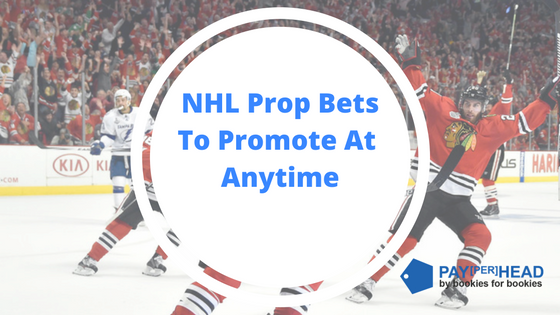 Eastern Conference Winner, Western Conference Winner, and Stanley Cup Winner are all NHL prop bets that bookies and pay per head bookmakers can promote at any time.
Keep reading for some info on what teams, right now, are likely to be attractive plays bettors.
Eastern Conference Winner
Tampa Bay Lightning             +300
Washington Capitals               +400
Pittsburgh Penguins                +450
It makes sense that the Top 3 choices in the Eastern Conference are all teams that played well last season and had deep runs in the NHL Playoffs.
The Lightning made it to the Stanley Cup Finals in 2014. Washington had the best record in the NHL in 2015 while Pittsburgh won the title in 2015.
Online bookies should already have max betting limits in place.
The Lightning appears to be the team that casual bettors and pro bettors alike have settled on to win the Eastern Conference. Tampa Bay is 5-1-0-0 ATS as of Oct. 25.
It might be easy to promote the Pens as a value play to win the East at +450
Western Conference Winner
St. Louis Blues             +300
Chicago Blackhawks               +450
Dallas Stars                             +700
St. Louis has become the darling of future prop bettors looking to score on this year's NHL Western Conference winner. The Blues have gone 4-2-1-0 as of Oct. 25.
They've already beaten the Blackhawks and the NY Rangers. Chicago, the +600 favorite to win the Stanley Cup during the off-season is 3-3-0-1 as of Oct. 25.
The Blackhawks haven't been as great as the Blues so far but they've also had to battle Nashville twice and Toronto and Auston Matthews.
Pay per head agents might recognize that Dallas offers the most value.
At 3-2-1, the Stars look like a tough team. But they're going to have to flip the script on their offense vs defense.
On offense, the Stars only average 2.8 goals per match.
On defense, they allow an average of 3 goals per match.
The 0.2 difference from goals scored versus goals allowed per match could be the difference for the Stars in the Western Conference where so many teams are close to each other in terms of talent.
Bookmakers promoting Dallas as the value play looks like a winning move.
Stanley Cup Winner
Chicago Blackhawks               +900
It makes sense to blast emails and, or, text messages telling clients that the Blackhawks, a pre-season 6 to 1 favorite to win the Cup, can be bet at 9 to 1.
That's a huge difference in odds. If online bookies and per head agents promote the Blackhawks as a big time value play at +900, they should see action on Chicago in their books.
PayPerHead offers a premium software for bookies to grow their books with proper tools, and become master agents. Become a master agent today.