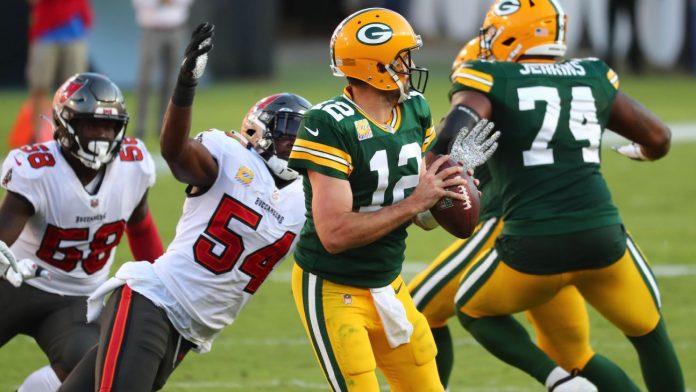 The NFC North boasts one of the biggest favorites in any division and it's no surprise that it's the Green Bay Packers. They have won each of the last three division titles rather easily and oddsmakers aren't expected much of a challenge this year. Green Bay is almost a 2-1 favorite, followed by the always-frustrating Minnesota Vikings at +265. The Detroit Lions are actually not the favorites to finish at the bottom for a change. That distinction goes to the Chicago Bears at a whopping +1400. The Lions and Bears are rebuilding and are not expected to finish with winning records.
NFC North Standings [2021]
| NFC | NORTH | W | L | T |
| --- | --- | --- | --- | --- |
| | Packers | 13 | 4 | 0 |
| | Vikings | 8 | 9 | 0 |
| | Bears | 6 | 11 | 0 |
| | Lions | 3 | 13 | 0 |
As long as Aaron Rodgers is under center, the Packers will be the favorites to win the NFC North. Rodgers has led the Packers to eight division crowns in the last 11 seasons including a Super Bowl XLV win. The Packers should easily win the division this season thanks to not only Rodgers, but one of the easier schedules in the league. The team lost superstar wide receiver Davante Adams, but drafted three in April and brought in veteran Sammy Watkins to help Rodgers. Head coach Matt LaFleur has won three division titles and been to two NFC Championship games in his first three seasons.
Odds to Win NFC North (as of 7/24/22):
Green Bay Packers -190
Minnesota Vikings +265
Detroit Lions +1000
Chicago Bears +1400
The only real threat to the Packers are the Minnesota Vikings. Gone is head coach Mike Zimmer and in comes Kevin O'Connell from the L.A. Rams. O'Connell helped resurge Matt Stafford into a Super Bowl winner and fans hope he can do the same for Kirk Cousins. O'Connell will inherit a pretty good football team with offensive power and a solid defense thanks to Zimmer. Adam Thielen, Dalvin Cook and Justin Jefferson provide Cousins with dangerous options and the Vikings could surprise people this year.
This could be an ugly year once again for the Chicago Bears. After drafting Ohio State quarterback Justin Fields in the 2021 draft, hopes were high. One year later and the Bears aren't sure they have the right man to lead the offense. Fields looked like a rookie last season and was roughed up along the way. Head coach Matt Nagy and a lack of offensive weapons could have contributed to that. New head coach Matt Eberflus takes over after serving as the Indianapolis Colts' defensive coordinator from 2018-21. I wouldn't expect a dramatic turnaround in 2022.
Season Win Totals (as of 7/24/22):
Green Bay Packers 11 o115
Minnesota Vikings 9.5 o125
Detroit Lions 6.5 o160
Chicago Bears 6.5 u170
The Detroit Lions had a poor final record in 2021, but the team was in a lot of games and never gave up. Head coach Dan Campbell made the most out of what talent he had, which was not much. Campbell wears his emotions on his sleeve, which players and fans love, but he can also call out players when they are underperforming. Winning seven games is attainable this season thanks to the 28th toughest schedule in the league. Quarterback Jared Goff has to perform better, or the Lions will be looking for a new signal-caller in 2023.
Jay's Season Win Total Best Bet: Because the Bears are so bad, I give the Lions a great chance to sweep them and get to at least seven wins. There are some very winnable games on the schedule including Carolina, Jacksonville, NY Jets and Seattle. Goff will be the key, but I believe he'll be better in 2022.
Lions OVER 6.5 -160
Jay's Pick to Win Division: I wanted to pick the the Vikings to win the division, but I just don't see enough wins on a tough schedule. Green Bay is still the better team and the schedule is softer. We'll find out a lot in Week 1 when the Vikings host the Packers.
Packers -190
To see more odds and props for the NFC North, click here.
More Previews!
AFC East Preview
AFC North Preview
AFC South Preview
AFC West Preview
NFC East Preview
NFC South Preview
NFC West Preview