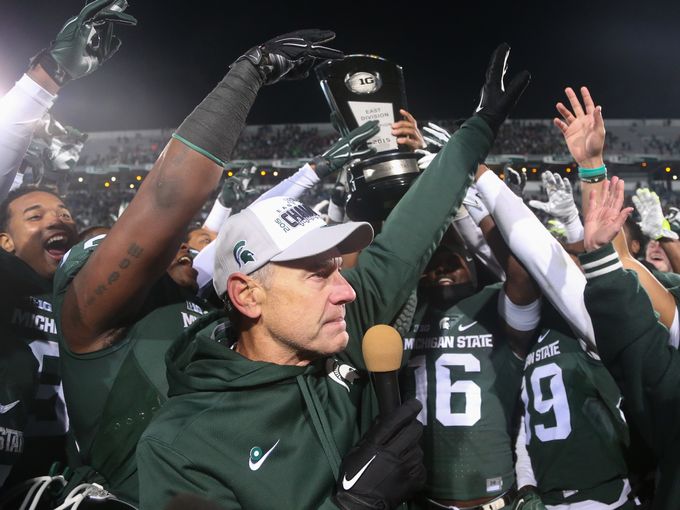 Week 10 was another wild week in college football and the fans saw their fair share of surprises. Ohio State was of course the biggest surprise of the weekend as they got the breaks beat off of their sorry butts! What a disappointing loss for Buckeyes fans and the Big 10.
The Big 10 is failing to represent; period. Penn State is the same old Penn State of years gone by, they never fail to bail on their fans. It's always high times in Happy Valley, then they hit the road and lose two in a row. How do they let Michigan State do them this way? It's simple, Penn State is a fraud. Michigan State has a very good defense but Penn State has a much better offense. This game was an embarrassment to the program and a very big win for the Spartans.
The networks love Oklahoma and for some good reason. They are exciting to watch and Baker Mayfield is very clearly the best quarterback in college football. He proved it with nearly 600 yards passing! It was an impressive performance offensively from the Sooners but an equally disappointing performance on the defensive side of the ball. No team can give up 52 points and expect to beat Georgia, Alabama, or Clemson. It's not going to happen and Oklahoma will not be in the College Football Playoff Final Four.
Realbookies Best Price Pay Head Provider –  Reabookies, unveils largest selection soccer betting league
Miami comes away a huge winner with an outstanding defensive effort as they put the wood to Virginia Tech by a final score of 28-10. This was an all-out great effort from the defense and the offense. Look for Miami to continue playing great and look for them to play extremely well against Notre Dame.
#9 Washington vs. Stanford
The Huskies are back in the swing of things and it couldn't come at a better time for Jake Browning and company. Browning certainly doesn't get the national attention that Darnold or Mayfield may get but this doesn't meant that he is not on the same level. He is on the same level and he will show why on Friday night as his team takes on the Cardinal. Stanford is better than expected behind the likes of Bryce Love with 1456 yards on the season. I matters not. Chris Petersen will have his boys ready for this one as he always does late in the year.
Prediction: Washington -6
#12 Michigan State vs. #13 Ohio State
Ohio State is reeling after their beat down by Iowa, 55-24. All that glitters is not gold and don't ever forget it! The Spartans see gold in the pan and its guaranteed they are thinking this is the week to pounce. Wrong! This is a proud Ohio State team run by the second best coach in all of college football. Urban Myer will adjust. Count on it and look for it. Michigan State has a very solid team but they are not in the Buckeyes league. You can look for a letdown from the Spartans and you can look for a focused Ohio State that doesn't take kindly to embarrassment.
Prediction: Ohio State -1
#15 Oklahoma State vs. #21 Iowa State
Mason Rudolph is sick! This dude can and will hang with anyone in all of college football. With 3,314 yards on the season along with 27 touchdowns; you should be hoping your favorite NFL team tanks the season just so you can get this guy! Unless you are an Eagles fan!  Seriously, the Oklahoma State Cowboys are a team to be dealt with on offense but unfortunately they haven't learned how to play defense. Giving up over 60 to their rival Sooners was out of control and unacceptable for any top 25 team. The Cowboys must find a way to defend or they are going nowhere very quickly. Iowa State will show up offensively for this one, they will have no choice. The Cowboys will dictate the pace early and it will be another barnburner. Don't even think of betting the spread, this one could go either way.
Prediction: Over 62
America's Bookie offers the Best Online NCAA Football betting offers  – Bookmaker Login
Arkansas vs. #24 LSU
Arkansas is not very good so expect very little from the Razorbacks. LSU is very good and under ranked. They haven't been minus some hiccups along the way but neither has Ohio State. Look for a big game on the ground and a balanced attack in the air. LSU is a talented group of kids and they will be hungry at home. Expect almost nothing from Arkansas, they should be 24 point underdogs and not -17. LSU is getting disrespected this week and they will make it a point to show Vegas that they got the numbers wrong.
Prediction: LSU -17
#2 Alabama vs. #16 Mississippi
This is a big test for Alabama and it will be interesting for a minute or two! Mississippi State is a good foe and a worthy opponent; for about two minutes! You see where this is going? Yes, that's right, it really doesn't matter who Alabama plays, and they are going to win. The Alabama Crimson Tide, could probably beat the Cleveland Browns! They are this good and Nick will be ready. 14 points is usually a lot to lay on the road in a head to head SEC matchup, but not in this one.
Prediction: Alabama -14
#3 Notre Dame vs. #7 Miami
The poll numbers are wrong and they should be the other way around. It should say Miami #3 and Notre Dame #7. The Irish are a good team and worthy of the top 10, but not the #3 spot in the nation. The Irish fall off every year and this year will be no different. The Hurricanes on the other hand, are playing with an unparalleled level of confidence and the momentum builds from week to week. This Miami Hurricanes team is the best produced since the days of Jimmy Johnson. This will be a fantastic game and could go to the wire but you will see Miami come away with the victory. The Miami Hurricanes walk away the winner and the Irish get on a plane, go home and think about "touchdown Jesus".
Prediction: Miami +3
Whoever you like, this is going to be another great week of college football action and you can be certain of a few upsets along the way. Kick back and enjoy the weekend, fire up the grill and have some November fun. This is the time of year when games really matter and teams will put the petal to the metal. The good will be sorted from the bad and the college football landscape will be carved out. Hook up with your favorite online sports betting site for the latest and best college football odds and get in the game.