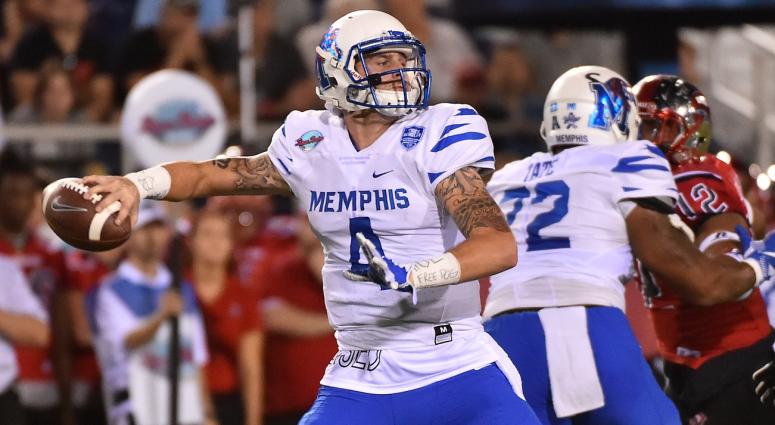 It's a great Friday night in college football and we have you covered. If you are looking to kick of the weekend with a bang then look no further than the three games on the docket. All three of them will be competitive and they will all be close, with exception of one! This college football season has been dominated by upsets and a rollercoaster of twist and turns. Who hangs on tonight and who is on the outs? We have your previews and predictions right here. Tonight is a great time to make some money. Dial up your online Bookmaker and get the money in. You won't be sorry.
Marshall vs. Florida Atlantic
This affair has all the earmarks of a fast paced, offense driven, wild ride. Get in for this one because it's going to be fun. Marshall is riding in with a 6-2 record and a guaranteed bowl appearance. Florida Atlantic needs a win tonight but can they get it? Yes they can but they must stick to their game plan and run first. This game could get in a shootout and Atlantic wants no part of it. Devin Singletary is the key in this one and a big game from him will be what's needed to shore up this victory. Marshall looks to ride their quarterback to victory and Chase Litton is proving his worth as a gunslinger in college football with 1913 yards and 16 touchdowns for the season.
Prediction: We don't have a clue! However we love over 67.5. Jump on the over and hang on because this is a scoring juggernaut of a game.
Over is the play
Advantages of using an online Bookmaker – NCAA Football Scores and Odds
#23 Memphis vs. Tulsa
Memphis is not going to be a bubble buster this year but they are a very solid team with a high flying offense that can take on anyone in the country. Riley Ferguson comes in with 2583 passing yards and 23 touchdowns. Look for him to have another big night and absolutely dominate the Tulsa defense. The expectations out of Tulsa have not been met this year and their season is a huge disappointment. They must make it a priority to figure out where the program is going and if they really are committed to improving. Tonight will not be there night and although the play from running back D' Angelo Brewer has been solid, it won't be enough tonight.
Prediction: Memphis -13.5
UCLA vs. Utah
A PAC 12 showdown and an entertaining game is what you get from his one. Utah is favored by 6.5 at most of the offshore bookies. It seems like a lot but then again it is a shaky UCLA team. UCLA has not been what fans had hoped. They are nothing less than a disappointment and continue to be. The thought was, after the wild season opener against Texas A&M; they were a team of destiny. Don't give up on Josh Rosen just yet. He is a top tier college football quarterback and will get his share of yards tonight. Coming in with 2713 yards and 20 touchdowns, he is making his mark. Tonight's game is another tough game to call and we don't like the points either way.
Prediction: Over 59
Get in tonight and have a little fun. Tonight is quite possibly the best Friday night in college football this season. It's not a night dominated by top 25 teams but that matters not. What matters is entertainment value and sports betting value. If you want to make some money then jump in with your bookie tonight. There is value in all three of these games and it will be well advised to get in early. Have fun, beat the bookie and make big money. You're going to love making the call to your online Bookmaker for a payout request!