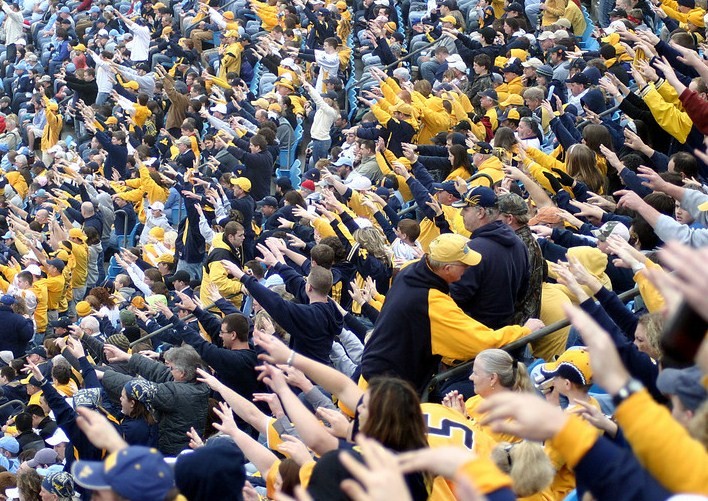 Now that Thanksgiving dinner is over, you are stuffed to the gills and have been running around since 1:00 AM, waiting in lines with angry mobs hoping to get that printer for $14 and nothing sucks worse than this! Black Friday used to be fun. Waaay back in the day, it was fun and it wasn't even called "Black Friday". It was called the day after Thanksgiving! This day was usually reserved for putting up the Christmas tree, decorating the house and getting the lights up all while enjoying two or three turkey/dressing/cranberry sandwiches along with whatever pumpkin and pecan pie that you managed to hide away from the relatives!
Americas Bookie – Your Friendly All-Inclusive Sportsbook
Here is the good news, forget that, screw that! However, we know most of you are going somewhere so the even better news is that the biggest college game of the day starts late. Oklahoma vs. West Virginia starts at 8:00 EST on ESPN. All you need is a couple of sturdy TV trays, a bucket of brew, and the remote! My friends, you are about to witness one of the best college football games of the year and you must not even consider missing the action. This game is as good as it's going to get for the entire 2018-19 college football season.
Baker who? Really, has there ever been such a huge impact player in the game of college football to be drafted as a #1 overall and then not be missed whatsoever? Baker Mayfield was amazing in college and the fans maybe miss him, but nobody is noticing because this 10-1 Sooners team is bad to the bone once again, but so is West Virginia! Both of these teams are very good but this game means more to Oklahoma, or does it? Oklahoma is ranked 6th in the nation and looking like they will claim a spot in the playoffs but what if they get upended by Wil Grier and the Mountaineers, can it happen? Will they take over the 6th spot in the nation and be right back in the hunt?
Based on the committees past, West Virginia would need to embarrass Oklahoma for any movement to happen. The Mountaineers would need a beyond stellar day and Oklahoma would need to be a train wreck. This is not going to happen. Now, WVU can beat Oklahoma. They have the firepower. Wil Grier is a contender for the Heisman and with 3, 325 yards, 33 TD's and 8 INT's', why not? Here is the problem— Junior quarterback Kyler Murray is having a mirror image season to that of Wil Grier and he is also a favorite for this year's Heisman with 3, 310 yards, 34 TD's and just 6 INT's. What stellar seasons both of these quarterbacks are having and neither one of these teams can play championship defense.
Real Bookies : Pay Per Head Business Support for Private Bookmakers
West Virginia is the better team defensively and allowing just 23.3 points per game to 30.7 for the Sooners. The Sooners, however, are scoring 9 more points on average than West Virginia with 49.5 per game to 40.9, and there's your difference in the point spread for this game. Oklahoma is favored and laying -3 on the road, in West Virginia.
This game promises to be a fierce back and forth battle that will feature flashy plays from scrimmage and over the top, breakout yard busters. Both QB's have cannons for arms and they will make plays that will knock it out of the park. The Sooners are putting up 576.1 yards per game against WVU's 502. The Sooners are passing for 315.4 yards per game and rushing for 260.7 yards per game, while WVU is passing for 340 yards and rushing for 162. The passing game is slightly better for the Mountaineers but the rushing game, it's much better for the sooners.
Sports Gambling – Betting NFL Parlays at Your Online Sportsbook
The Mountaineers are allowing 379.2 yards per game to the Sooners 425.8 yards of total offense. The Mountaineers are looking to slow Oklahoma on the run, they must do it today and they can if they buckle down and game plan the run, they are allowing 135.5 yards on the ground to the Sooners 162.2. The Mountaineers must take away the run and force Murray to beat them and they must get after him, make him pay all day long, make him wish he had never seen Morgantown in his life!
Americas Bookie – Appealing to the Masses With Huge Betting Menu
We think the total yards of offense-differential, and a noted home field advantage will make up the difference in this game. Not only the numbers, but the heart. We would never say bet, based on "heart" or "gut" but in this game, throw that right out the window. Wil Grier has weapons in Sills and Mckoy and he has a heart bigger than Morgantown! The Mountaineers had their chances last season and blew it, not this time, not in their house. The Sooners will bring it and they will bring it all day but it won't be enough for a junior quarterback who sat behind Baker for 2 seasons, against the more experienced senior quarterback, Wil Grier. Heart, gut, grit, and determination and a want to win; win this game for Grier and the Mountaineers. There will no doubt be huge numbers at the end of the day and the combined total could easily be more than 80. This one goes to the Mountaineers.
Prediction: West Virginia +3 and they officially move "touchdown Jesus" from South Bend to Morgantown! West Virginia will not only cover the +3 spread, we think they win outright.