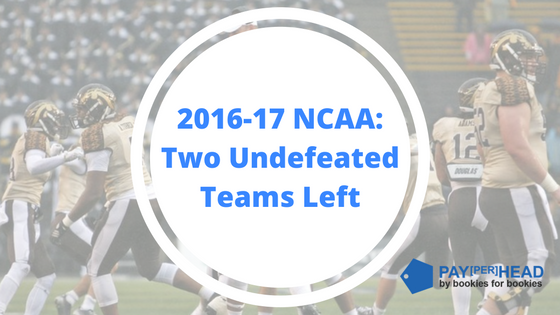 After last weekend's slew of upsets, the odds are slim that two undefeated teams will meet in this year's College Football Playoffs.
Week 11 saw Clemson, Michigan and Washington, the 2nd, 3rd and 4th ranked teams, all lose.
Which leaves only two undefeated teams remaining, the Alabama Crimson Tide (no surprise) and the Western Michigan Broncos (surprise).
What Happens Now For The 2 Undefeated Teams?
College Football bettors will now look at Alabama as the safest choice to not only win their remaining games but are virtually even money to win the National Championship again.
Online bookies and pay per head agents will have to watch the bets being played against any team as they will be highly favored. They should also have a Layoff Account in order to layoff large bets for Alabama.
PayPerHead.com offers premium tools and Layoff Accounts to bookies looking to take their business seriously. Learn more about PayPerHead's $6.50 per head deal happening for a limited time and get the best software in the industry.
It is extremely unlikely that Western Michigan (a MAC school) will even get to the championship even if they win out. They most likely would be invited to a New Year's Six bowl as their reward.
Online bookies and per head agents probably won't have to worry too much about Michigan wagers. But it's important to still have that Layoff Account ready in case they do see some action their next game.
The Shift in Odd
Ohio State's odds have now jumped into the second best position to win it all as they are sitting at a +250 on the betting line.
Online bookies and pay per head agents may want to take a closer look at the Buckeyes, especially if they look good and beat rival Michigan in the final game of the regular-season.
Bookies should set betting limits for both teams during this game as it will be see some action. A Layoff Account is also important in order to keep the lines even between the rival teams.
Speaking of Michigan, because of their tough loss to Iowa, they went from a +500 to a +plus 1000 on the line.
In addition, an injury to starting quarterback Wilton Speight could make them a tough sell as the season winds down.
Clemson also took a hit after losing to Pitt as the Tigers went from a +750 to a +1000. But they still have quarterback DeShaun Watson and would love to see a rematch with Alabama in the title game.
The Washington Huskies have fallen out of the unbeaten ranks after losing to USC last week and also fell out of the latest Top 4 in the rankings.
Online Bookies will note a large change in the betting line for the Huskies as they have gone from a +900 to a +330 after that game.
So it appears all of the smart money is looking at Alabama but should one of the teams who were stunned last week catch fire, there is a possibility that bettors could make some money taking the higher odds.
Again, setting betting limits and keeping a Layoff Account ready will be a great asset to online bookies looking to mitigate risk.
To get the best tools industry, online bookies and per head agents should take advantage of PayPerHead.com's premium software that is currently half priced for a limited time.
This industry leading software and the premium tools it offers were created by bookies, for bookies, get it today and make more money.