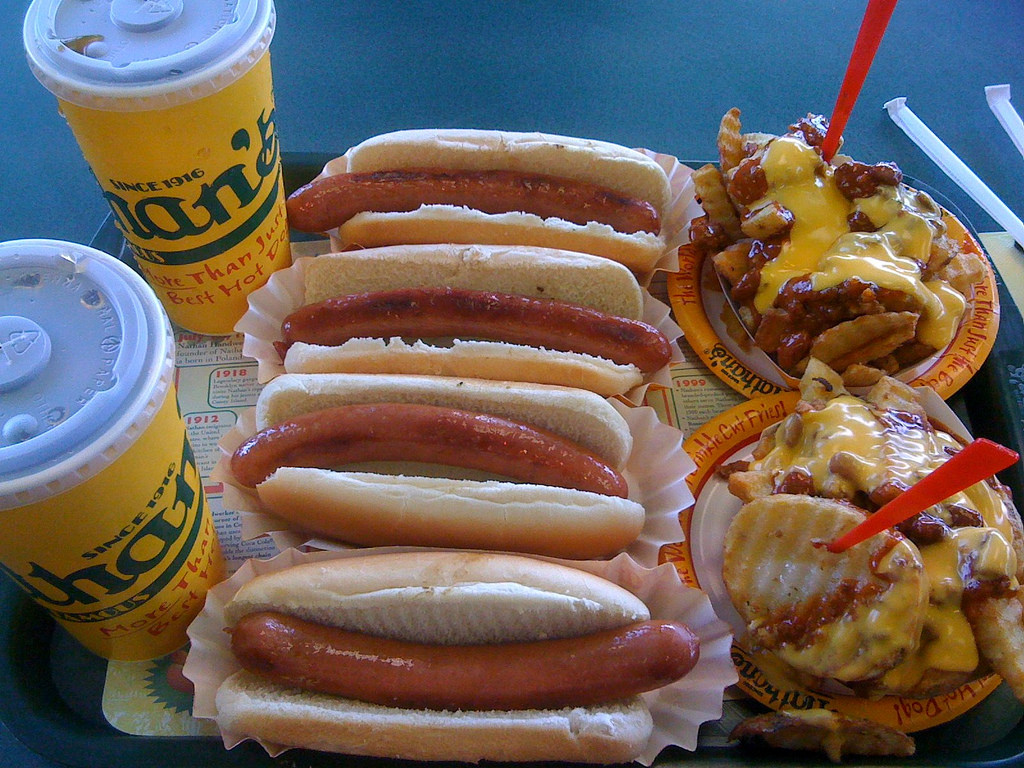 The odds are set for the 102nd Nathan's Hot Dog Eating Contest and its no surprise that Joey Chestnut is the favorite at -550. He will be seeking an unprecedented 11th championship when the event takes place on July 4th from Coney Island, New York.
Chestnut smashed his own record while running away with last year's competition, chowing down 72 hot dogs and buns in just 10 minutes to claim the Mustard Belt for a 10th time in his career. There will be plenty of competitors who are capable of taking down Chestnut if he were to have an 'off' day on Independence Day.
Matt "Megatoad" Stonie, the man who knocked off Chestnut at this event in 2015, will be looking to reclaim the title after finishing a distant third in 2017. Stonie managed to consume just 48 hot dogs and buns in last year's contest, well back of the 60 dogs he devoured on his way to victory three years ago, and is pegged as a +300 underdog to finish ahead of Chestnut on the 2018 Nathan's Famous Hot Dog Eating Contest prop bets.
Stonie is expected to get off to a fast start with strong -180 odds favoring him to eat OVER 36.5 hot dogs and buns in the first five minutes of action. However, those numbers significantly trail Chestnut, with the reigning champion pegged as a tempting +140 wager to consume OVER 46 hot dogs and buns by the halfway mark of the competition, and a heavy -180 favorite to force down OVER 12.5 in the first minute alone. Can you imagine eating that many hot dogs in just one day?
Cincotti, Esper Join Favorites on Hot Dog Props
Last year's runner up Carmen Cincotti is expected to repeat his result of second place from a year ago celebrate his 26th birthday at the Nathan's Famous Hot Dog Eating Contest on July 4th. He ate 60 hot dogs and buns in 2017, and is a solid -230 bet to consume OVER 53.5 at this year's contest.
Cincotti is also pegged as a -600 favorite in head-to-head wagering with Geoffrey Esper, who finished fourth in 2017 with 44.5 hot dogs and buns eaten. But Esper looked in championship form while putting away a record 83 pizza slices at the 2018 John's Incredible Pizza – World Pizza Eating Championship, and sports +350 odds to finish ahead of the youthful Cincotti.
While Chestnut has set new records at each of the past two competitions, the odds favor his existing record surviving this year's competition, with the total number of hot dogs eaten by the winner set as a short -250 wager to go UNDER 72.5.
Over in women's action on the 2018 Nathan's Famous Hot Dog Eating Contest prop bets, the line on total hot dogs eaten by the winner is set at 41.5, with both the OVER and UNDER sporting -120 odds. Five-time champion Miki Sudo is listed as a -500 favorite to finish ahead of three-time champion Sonya Thomas, who returns to the competition for the first time since 2013.
Here are some other OVER/UNDER odds for Total Hot Dogs eaten by winner (Men's):
66.5 OVER -750/UNDER +415
68.5 OVER -500/UNDER +300
70.5 OVER -190/UNDER +145
72.5 OVER +155/UNDER -220
BET THIS YEAR'S NATHAN'S HOT DOG EATING CONTEST
*Odds as of July 2, 2018*