Open an Account at Bovada Sportsbook Now! Sign up at Bovada.lv to get up to a $250 Deposit Bonus and to bet all the Web's best MLB Baseball odds and props!
The MLB All-Star Break is here which means its time for the annual Home Run Derby. We missed out on this great event last year because of the pandemic, so the Mets' Pete Alonso is still the defending champion from 2019 and will compete this year. It will be super exciting this year because it will take place in the homer-friendly Coors Field in Denver and the balls will not be stored in a humidor. Here are the rules:
There are eight players broken down into bracket form, seeded 1 through 8. It's single elimination. The seeds were determined by this year's home run totals entering Wednesday's play. Tiebreakers were determined by home run totals since June 15, as stipulated in the Collective Bargaining Agreement.
CLICK HERE TO BET THE HOME RUN DERBY
It's a single-elimination bracket system with three rounds total. In each bracket, the higher seed hits second.
Batters will have three minutes in the first two rounds and two minutes in the final. It should be noted that once the second player in a given round exceeds the home run total of his opponent, the round ends. There is no need for a player to add to his tally. 30 seconds of bonus time will be awarded for hitting at least two home runs that each equal or exceed 475 feet. Ties in any round will be broken by a 60-second swing-off with no stoppage of time or additional time added. If a tie remains after the swing-off, batters will engage in successive three-swing swing-offs until there is a winner.
Our predictions on who will win are below. Enjoy the Home Run Derby!
CLICK HERE TO BET THE HOME RUN DERBY
No. 1: Shohei Ohtani, LA Angels
Home Runs: 32 | Longest of '21: 470 feet | Odds: +225
No. 2: Joey Gallo, Texas Rangers
Home Runs: 23 | Longest of '21: 462 feet | Odds: +375
No. 3: Matt Olson, Oakland A's
Home Runs: 21 | Longest of '21: 445 feet | Odds: +600
No. 4: Salvador Perez, Kansas City Royals
Home Runs: 20 | Longest of '21: 460 feet | Odds: +950
No. 5: Pete Alonso, New York Mets
Home Runs: 15 | Longest of '21: 443 feet | Odds: +550
No. 6: Trey Mancini, Baltimore Orioles
Home Runs: 15 | Longest of '21: 451 feet | Odds: +1100
No. 7: Trevor Story, Colorado Rockies
Home Runs: 11 | Longest of '21: 466 feet | Odds: +800
No. 8: Juan Soto, Washington Nationals
Home Runs: 11 | Longest of '21: 437 feet | Odds: +900
CLICK HERE TO BET THE HOME RUN DERBY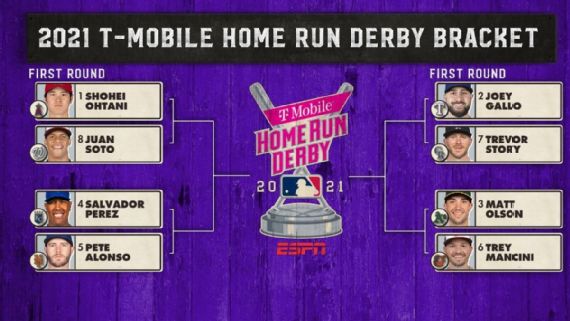 Jay's Pick: Pete Alonso +550
Bobby's Pick: Trevor Story +800