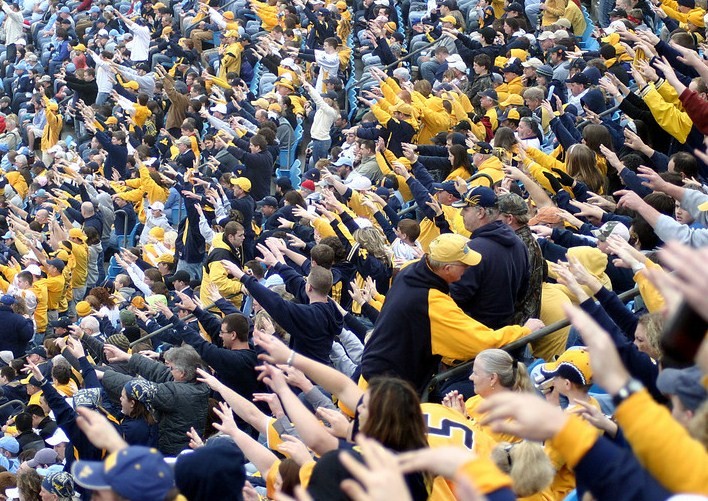 There are several fantastic games on the docket this weekend. You must be prepared and you must know how to bet these games. The number one issue that you must take care of if you haven't already, is a fantastic online bookie. Is your bookie cutting it this year? If not, why not? Now is the crucial time of the season to evaluate or should we say, reevaluate exactly what your bookie is doing for you. Are they offering you the best contests on the internet with real cash awards that pay weekly and at the end of football? What about a great player bonus, are you getting one? You should absolutely be using and taking advantage of a bonus. There is a lot of money to be made from a bonus, play it to the bone. Know what the rollovers are and be prepared to have a cash account with one bookie and a bonus account with another bookie.
Great Games this Week:
#12 West Virginia vs Texas Tech
Quarterback Will Grier for West Virginia is having another fantastic year going 71-95 for 1117 yards, 14 TD's and just 3 interceptions. The Mountaineers are 3-0 and have a very legitimate shot at a "Big Six" playoff game. There is just one requirement for West Virginia; keep winning. They must keep winning and they can't afford a loss. One loss and they will certainly go the way of Oklahoma State and Boise State. The Red Raiders come into this affair with a 3-1 record and they too, are playing well. Bowman is another gunner that can fling a football a very long ways. This guy has a cannon and he gets it done with 1557 yards, 10 TD's and 2 interceptions. Both teams have weapons on offense but the Mountaineers have put together a superior defense.
Five Value – Added Online Sportsbook Features at Americas Bookie
This game has first half written all over it for Texas Tech. Tech will no doubt get off to a fast start and West Virginia will find themselves crawling back in the second half. Find a great line for the Texas Tech first half, it should be hovering around +2. Tech will prove to be a great first half home dog. Jump on the first half.
Look for the live line, this game will be close most of the way and the second half could prove too much for Tech against a superior defense. The Red Raiders will run out of gas the later the game goes. The score will run up and touch that total of 73 so watch closely for the totals and follow the live line, this game will be a great opportunity to get the over.
At the end of the day, West Virginia prevails and they will improve to 4-0. This West Virginia defense will be too much for Texas Tech. Jump on the -3.5 for the game line and cover your bases. This game is going to be wild, high scoring and a lot of fun.
Real Bookies – Tips to Increasing Weekly NFL Profits with Pay Per Head
Ole Miss vs #5 LSU:
The Tigers are on a mission and it's called a National Championship run. This team is probably under ranked at #5. The defense is nails, and they showed some of what they have against Miami holding them to 17, the next week they blanked SELA, 31-0, they went to Auburn and got the 22-21 win and then last week picked up a 38-21 win vs LT. Ole Miss has their hands full with this team and it seems that one of the best bets this week could be the -10.5. LSU must find consistency on offense, but at home, against a relatively weak defense, they will pick up the victory over Ole Miss. The safe bet on this game is under 60 and a 6.5 point teaser with LSU and Under.
Every Sports Bettor Needs a Solid Bookie – Whether Betting Daily or Occasionally
Be sure to dial up your favorite bookmaker and get your bets in as early as possible. Every penny counts so make this week a winner with LSU and West Virginia. Most of all, have fun and win a pile of money.