The Phoenix Suns and Milwaukee Bucks are battling out in the NBA 2021 finals, and the focus now is on the player that will take the MVP home. NBA finals have proven to be legacy-altering over the years, and 2021 is no different as Devin Booker, Giannis Antetokounmpo and Chris Paul are battling it out for their first-ever NBA title.
The race is somehow different as we are used to having two players in the chase of NBA Finals MVP, but now we have 3. Some of the names we have seen in the past include LeBron James, Kevin Durant, Stephen Curry, and Kawhi Leonard. An example of a surprise name on this list is Andre Iguodala. Let us breakdown the stats for the top 3 contenders in the 2021 race:
Giannis Antetokounmpo, Milwaukee Bucks
Currents NBA Finals stats: 34.3 PTS, 14.0 REB, 4.7 AST, 62.5 FG%
The Bucks have won 1 game only so far in the NBA 2021 Finals. However, Giannis Antetokounmpo is still in the race for MVP despite suffering an injury during the playoffs. It was unclear if Giannis would be fit for Game 1, but a last-minute decision saw him rake 20 points with 6-for-11 shooting and a total of 17 rebounds within 35 minutes.
Game 2 was somehow different as he raked 42 points on 15-for-22 shooting, four assists and 12 boards. However, the Bucks lost the game to the Suns. Game 3 earned him a back-to-back 40-point performance as he finished with 41 points (14-for-23 shooting), six assists and 13 rebounds, and the Bucks won their first game of the series.
🔥 Giannis TAKES OVER in Game 3! 🔥

41 PTS
13 REB
14-23 FGM
13-17 FTM@Giannis_An34 joins @SHAQ as the only players in #NBAFinals history with back-to-back 40+ point, 10+ rebound games, as the Bucks win Game 3! #ThatsGame

Game 4: Wed, 9 PM ET, ABC pic.twitter.com/lIazIIZbAo

— NBA (@NBA) July 12, 2021
In a post-game interview, Giannis kept saying that he wasn't Michael Jordan. Jordan had four consecutive 40-point performances as he led Chicago Bulls against the Suns in the 1993 Finals. On the other hand, Game 3 gave Giannis his second straight 40-point performance as the Bucks hammered the Suns 120-100. Giannis was smart to resist the bait during the post-game interview and said that all he cared about was getting one more win.
Giannis was relentlessly attacking in Game 2 and Game 3, and the efforts were worth it as he is the second player to rake 100-plus points and more than 40 rebounds within the first 3 games in the Finals league's history. He also joins the ranks of Shaquille O'Neal, who had 40-plus points and 10-plus in the 2000 NBA Finals in consecutive NBA Finals outings.
Mike Budenholzer, the Bucks coach, commented on Giannis' performance, saying that he was doing whatever it took to help the team. He went on ahead to say that Giannis had an aggressive mindset and played great in Game 3. Even though the Bucks lost in Game 2, it was clear that Giannis was headed to a great performance. All his points came from either the free throw line or inside the paint, positions that he had struggled with in Game 2.
Giannis' aggression in Game 3 gave Suns' Deandre Ayton a lot of foul trouble. Ayton had three fouls by halftime and picked the fourth one less than 2 minutes into the second half with just 24 minutes of play. 13 of Ayton's 17 free throws were knocked down by Giannis in Game 3.
Chris Paul, Phoenix Suns
NBA Finals stats: 24.7 ppg, 8.7 apg, 1.0 spg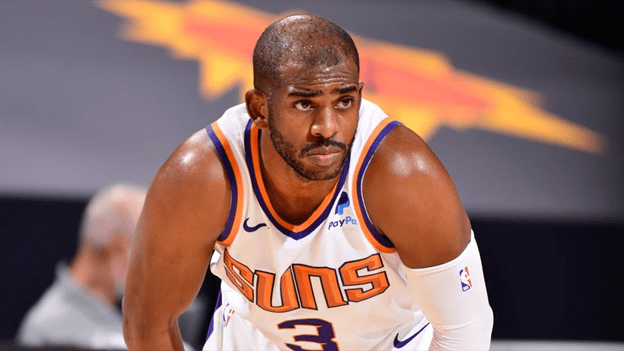 Paul raked 19 points in Game 3, his lowest score since the Western Conference finals Game 4. Paul also had four turnovers, which ties with Mikal Bridges' record.
Devin Booker, Phoenix Suns
NBA finals stats so far: 22.7 ppg, 4.7 apg, 1.0 spg
The other contender for MVP this season is Booker from the Suns. Game 3 was not that good for him as he registered 10 points, his lowest in the postseason.
Even though there are other far contenders, the sports odds are now mostly focused on the 3 with Giannis leading the pack. Giannis has his eyes on the MVP title irrespective of whether the Bucks win the championship or not.