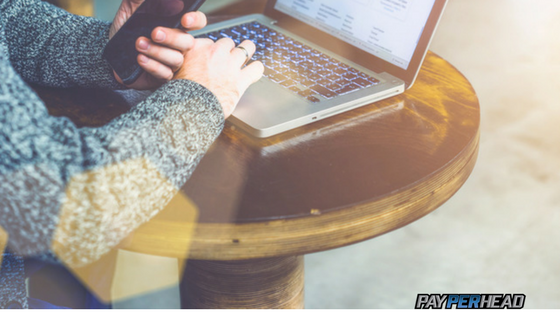 There are five steps to become a full-time online bookie agent. Below, all five steps are listed.
PayPerHead.com is the industry leading price per head software available. Online bookies can get all packages today for half the price.
This 50% off deal is only on for a limited time, so learn more today.
Fund your new business
Like most businesses, it's important to be well-funded. Bookmaking is no different than most businesses.
A lot of bookmakers have taken their personal savings, or money that they make from a day job, and have used that the seed money for their new bookmaking business. Other have taken on investors.
The bottom line is that online bookies can't take wagers unless they can payout winnings when required.
Talk to your friends about your new business
You probably thought about getting into the bookmaking business because you and your friends place sports wagers. A lot of online bookies become bookies after starting out as sports handicappers or sports bettors.
That's a good thing. Bookmakers should understand every aspect of their business, including casual versus pro bettors as well as what bettors look for when making wagers.
Set goals
Set goals. Set a date for those goals. An example of a goal would be to have at least 2 clients wagering $1,000 or more per month with you.
Or, a suitable goal could be signing a specific number of clients. Is it 6?  Is it 10? How many and how long before you must hit your goal?
Get Online: Sign-up with PayPerHead.com
Once your business has grown to a suitable size, once you've hit a couple of key goals, it's time to take your business online and a get the right price per head software.
You could see the need to take your business online much earlier.
Maybe, even in the first month or even the first two weeks. It depends on how quickly you grow your business. PayPerHead.com reps are available to chat to any current or future pay per head agents.
Promote your business
This is essential to becoming a successful business person. Bookmaking is no different than any other business. It requires promotion.
After you've built up a group of trusted clients, offer to make them sub-agents. Or, give them wagering credits to find more clients for you.
There are a lot of ways that a PPH agent can promote his or her business.
Quit your day job
Once things are running smoothly, once you have a good idea of how much revenue you're going to receive, and how much of that revenue will be profit month to month, it's time to quit your day job. Exciting, right?
By following the steps above, almost anyone can become an online bookie agent. PayPerHead reps can be reached at 888-978-0288 for those who prefer to speak to someone.
Online bookies, and those looking to become one, who want to grow their online business should take advantage of PayPerHead's 50% off deal.
Half off of all price per head packages is happening for a limited time, learn more and start growing your own business today.