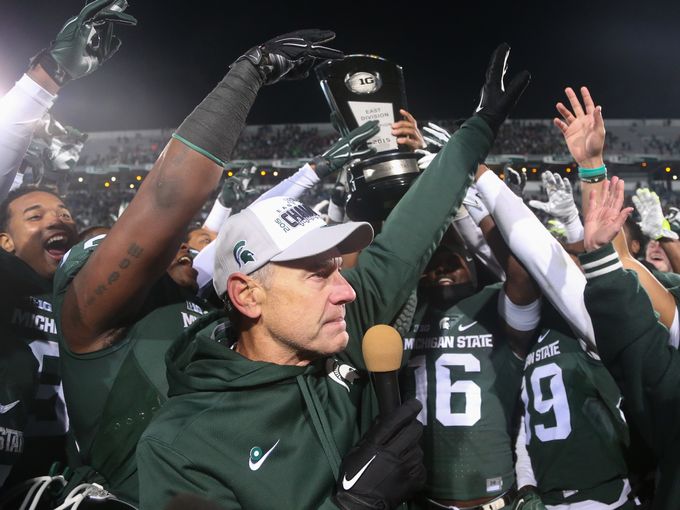 College football laid one on us for the ages in week 7. It was a crazy week indeed and just when you think it has to stop, take a look at the schedule this week. It is relentless to say the least and if destiny has its say, there are bound to be some more upsets along the way. Is there a sure thing in college football anymore? We think there is! Don't give up hope just yet. There is still a lot of money to be made in this ever changing landscape of college football craziness. We have some great picks for you this week and what we believe to be the bookie busters. Stay focused and don't jump ship on the best games available. Last week wasn't all a bust. Look at Ohio State. They came through in a big way and brought home the bacon. Take a look at the best games this week.
AmericasBookie Bookie Bookmaker Login  – Win $333 weekly in our NFL 33 Club
[ad id='37155′]
Maryland vs. #5 Wisconsin
The Badgers are proving themselves to the college football world as a top contender in this year's race to a championship and they have placed themselves in the driver's seat. They are on a mission as they face off against not only one of the worst teams in the Big 10, but one of the weaker teams in the nation. Maryland has no chance in this game. They would have no chance in this contest if it was being played in Maryland, let alone in Wisconsin! 24 points is a lot to lay you say; not in this one. Lay it and don't think twice. Maryland should win this game by more than 30 but Vegas and the offshore bookies are running scared. Take advantage of the weak line, lay it and win big,
North Carolina vs. #14 Virginia tech
This is not going to be close. For all of those folks stuck in the past with North Carolinas sparkle of hope, forget about it. North Carolina has lost most of their talented players and they are struggling against bad teams and not showing up for the better ones. Virginia Tech is still a solid # 14 and could be ranked higher if not for one hiccup along the way against Clemson. Tech is very good at home and they will get up for this one. In Josh Jackson you can trust, they will pound the ground against NC and make them pay in a big way. Lay the 21. There is no other way to go in this one. North Carolina simply has no firepower against a much better opponent.
Indiana vs. #18 Michigan State
The Spartans have come into their own this year and battled their way to the #18 spot in the nation respectably. They bring the pressure up front and they will get after it against Indiana. The Hoosiers once showed some promise, deep in the recesses of last season, but that ship has sailed. This is where the rubber meets the road for Indiana and they simply can't keep up. Lay the 7 with reckless abandon and lay it quickly because the price will go up.
#19 Michigan vs. #2 Penn state
Penn State has most definitely earned their stripes and they are tough to beat in Happy Valley. With Barkley looking like one of the best backs in the country you can be guaranteed a great performance from not only the running game of Penn State but also the passing game. Michigan will find the road to stopping Mc Sorley, most difficult. Michigan is not getting any better and for some unknown reason they are still getting respect for the top 25. This Michigan team should not be ranked higher that West Virginia but somehow the name Harbaugh still wields influence! This is the week that the pollsters see the light, and for good reason; Michigan will get crushed. Lay the 9.5 all day long. Michigan was exposed against Michigan State and exposed against Indiana in a game that they should have lost. They will not compete in this matchup. Check with your online bookie for the best parlay odds and play this one with Wisconsin.
[ad id='36510′]
#11 USC vs. #13 Notre Dame
This game is always a classic and a fun one to bet for sure. Sam Darnold may not be Joe Montana like all of the prognosticators said that he would be but he is getting back on track and USC is finding their rhythm once again.  This game can go either way and one would have to like the home team however, stay away from the spread this week and jump on the total. This game promises action and your online sportsbook will have the latest and best over/under numbers. Get in now before the line moves sharply. Don't think twice, jump on the over at 60. This one will most likely go in the 70's.
With a great week in store, you have nothing to lose and nothing and a boat load of green to win. If you have not taken advantage of a great college football sportsbook bonus, then you should do so. Why not get something for free! We all love free stuff and what's even better about a bonus is turning your earnings on the back end. Stick it to the bookie with their own money! It's your week and your money so make the most of it. Have fun and good luck.