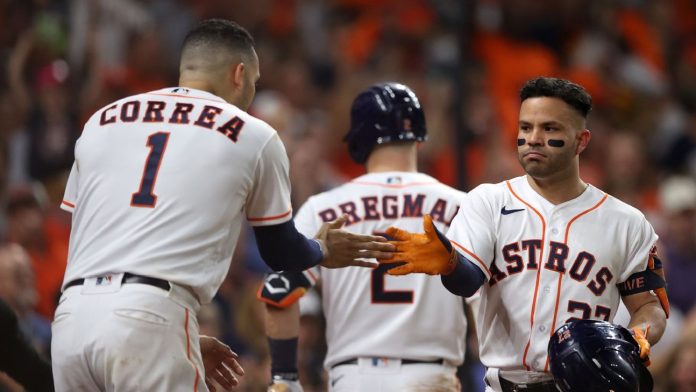 Atlanta (0-0) at Houston (0-0)
When: Tuesday, October 26th 2021
Where: Minute Maid Park,
Houston, TX
Time: 8:09 ET | TV: FOX
Opening Odds: Houston -141/8.5
The top two seeds in each league were the Tampa Bay Rays and San Francisco Giants. After a long 162-game season, those were the teams that were supposed to be playing Tuesday night in Game 1 of the World Series. Instead, we have everyone's-hated Houston Astros against the Atlanta Braves from Minute Maid Park in Houston, Texas. Don't get me wrong. It's still an intriguing matchup, but probably not what most people were rooting for outside of the two fan-bases. The Braves haven't been to the Fall Classic since 1999, while the Astros are playing in their third World Series in five year. Game 1 starter for Atlanta will be Charlie Morton, who not only has been to five straight postseasons, but won Game 7 of the 2017 Classic for the Astros against the Los Angeles Dodgers. Houston used its powerful offense to get by the Chicago White Sox and Boston Red Sox. The Astros scored 67 runs in its 10 postseason games including a 23-3 advantage over Boston in the final three games. Yordan Alvarez, who landed ALCS Most Valuable Player honors, finished 12-for-23 (.522) with a homer, six RBIs and seven runs and was 9-for-13 with five extra-base hits over the last three games.
The Braves easily put away the Milwaukee Brewers in the NLDS then won Game 6 of the NLCS to eliminate the Dodgers. Instead of outscoring their two opponents, Atlanta used strong starting pitching and an even strong bullpen. On offense, Eddie Rosario earned MVP of the National League Championship Series by going 14-for-25 (.560) with three home runs and nine RBIs against Los Angeles. Even with interleague playing going on all season long, the Braves and Astros haven't met since the 2017 season. Houston won all four games that year and Morton earned a win over the now-retired Bartolo Colon on May 9th, 2017. Game 2 will be tomorrow night in Atlanta before the series shifts back to Houston on Friday night.
Pitchers: Braves – Charlie Morton (14-7, 3.38) | Astros – Framber Valdez (12-6, 3.25)
Morton is no stranger to the postseason as I mentioned above. At 37-years old, Morton owns a 7-4 record with a 3.45 ERA in 15 playoff starts and one relief appearance. He is 0-1 with a 3.77 ERA in three starts this postseason after receiving a no-decision on Oct. 19 in Game 3 of the NLCS after allowing two runs on three hits with six walks in five innings. Morton has allowed a total of one run over 15 2/3 innings against the Astros as a member of the Tampa Bay Rays over the last two postseasons.
Lefty Framber Valdez started the 2021 postseason off with a couple of rough outings but made up for it in his latest. Against Boston, Valdez one run on three hits over eight strong innings to earn a 9-1 victory on Wednesday. Valdez, who will take the ball on regular rest, is 1-0 with a 4.20 ERA in three 2021 postseason starts.
I think the Houston offense is too much for Atlanta. The Braves haven't scored much this postseason and will need to pick up the offense if they want to win the series. Valdez impressed me in his last outing and I believe he will do enough to get Houston the Game 1 win.
Check out who Bobby Babowski has on his Free MLB Picks page for today.
Pick: Astros -130