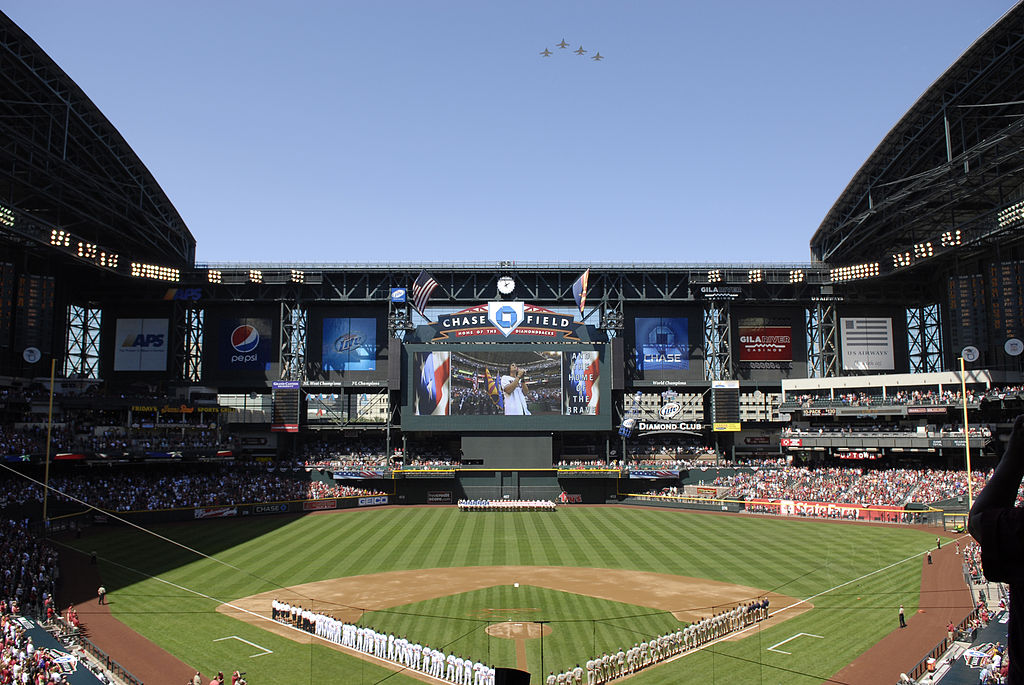 The Atlanta Braves (-113 money line, -1½+151 run line) travel to the desert to take on the Arizona Diamondbacks (+103 money line, +1½-171 run line), with the total for the game at u8½-115, o8½-105,  in a series that kicks off at 9:40pm EST on Thursday. Both teams are holding on to second place in their division. Atlanta is 3.5 games back of the Phillies in the East, while Arizona is 3.0 games back of LA in the West.
In what looks to be a low-scoring pitchers duel, the first game of this series pits former first round picks Lou Weaver of Arizona and Mike Soroka of Atlanta. The last time these two right-handers met was in April 18th in Atlanta, when the Diamondbacks won 4-1. Weaver pitched five scoreless innings that game, while Soroka yielded only one run through the first five innings.
Enjoy the Baseball season and the best MLB wagering odds at HRwager.ag. We have lots of bonuses and promotions, prop bets, and futures. Register now and make a deposit to get started! Join in on the Action!
Soroka has continued his spectacular play since that game, winning his last three starts. Overall, he is 3-1 with a 1.14 ERA on the season. In the last 23 innings, he has not given up a home run.
The Braves will need Soroka to be at his best, as they are looking to rebound from being swept in their last series against the Dodgers.
The Diamondbacks are coming off a 13-inning victory against the Rays, who they beat 3-2. That win broke a 3-game skid for Arizona.
Weaver, who the Diamondbacks picked up from the St Louis Cardinals in the Paul Goldschmidt trade in the offseason, won three of his four starts so far this season. He has a 1.99 ERA in 22 innings. Over that span he has struck out 29 and walked only four. So far this season, Weaver leads all Diamondback pitchers with a 3.29 ERA.
Soroka will be up against Diamondbacks leading hitter Ketel Marte, who leads his team in both RBI and home runs. So far this season he has hit 9 balls out of the park and brought 27 runs in for his club. The switch-hitting shortstop is in his 4th Major League season, and so far this year has a .247 batting average against right-handed pitchers.
For the Braves, Nick Markakis continues to be good at the plate; through 128 at bats this season he ranks 8th in the National League in Batting Average with a .313 and 6th in the NL in on base percentage with a .405. 89 of the left-hander's at-bats have come against right handed pitchers, in which he has a .337 average. Over the last seven days he has 5 runs, 5 hits including 2 home runs in 22 at bats.
These two teams face very similar odds for this game, with a small advantage going to Atlanta, who is desperate to get out of their slump. The Braves have a 18-19 record so far this year against the run line and have an 8-9 record on the road, while the Diamondbacks are 21-16 against the run line and have a 20-7 record as the underdog.