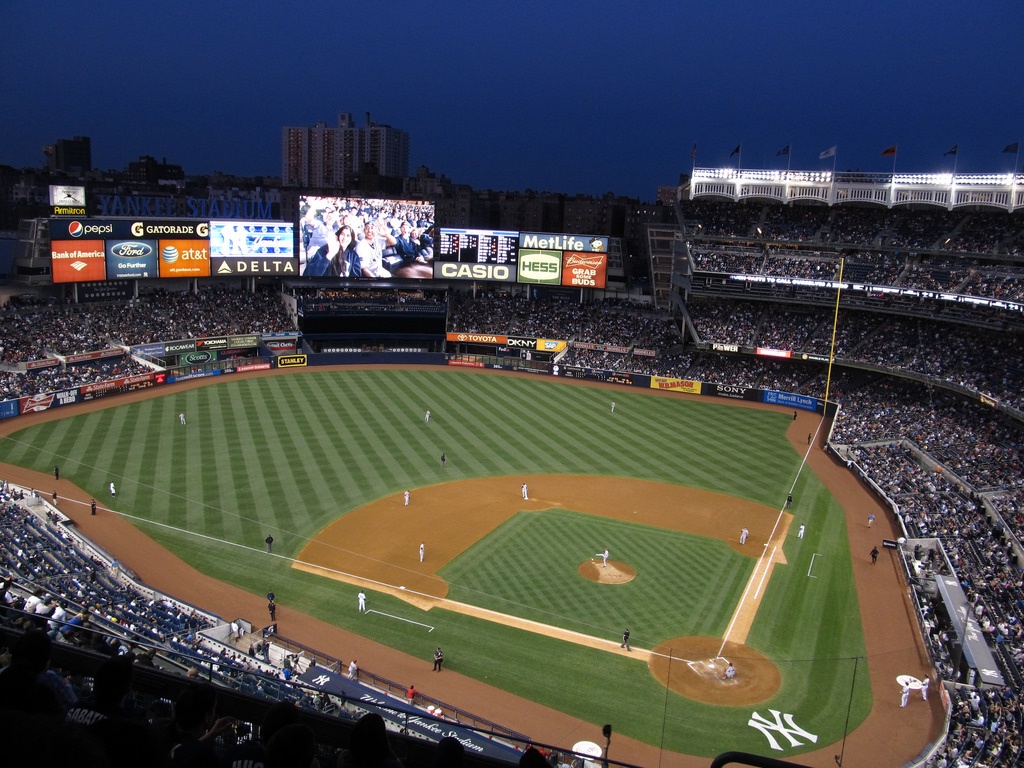 Oakland A's (17-17) +120, o/u 9 ½ at New York Yankees (19-13), 7 p.m. Eastern
The Oakland A's finish up a six-game road trip with a visit to the Big Apple for the first of a three-game set with the New York Yankees Friday night.
Oakland just dropped two of three games in Toronto, and sits in second place in the AL West, a half-game back of division-leading Texas.
New York just lost two of three to Boston, and holds down second place in the AL East, a game back of the Red Sox.
The A's are 7-10 on the road this season, 6-5 as underdogs and 14-20 vs. the run line.
The Yankees are 10-5 at home this season, 19-11 as favorites and 20-12 vs. the run line.



New York won the season series with Oakland last year 7 games to 2, with the over/under going 5-4. The A's took two of three games from the Yanks in their first encounter of this season last month.
Barry Zito (2-2, 4.07 ERA, 1.12 WHIP) heads to the mound Friday for Oakland. The A's are 3-4 in Zito's starts this season, the o/u 3-4, but Oakland is just 1-7 in Zito's last eight starts vs. the Yankees.
In Zito's last three starts vs. the Yankees (two last year and one this season), he's allowed 16 ER and 27 baserunners in just 12 IP.
Zito has been very good lately, though, giving up just one earned run in his last 14 2/3 innings pitched.
New York counters with Chien-Ming Wang (2-1, 4.83 ERA, 1.46 WHIP) Friday. In his most recent outing, Wang gave up 3 ER and 7 hits in 6 IP vs. Texas last Sunday.
The Yankees are 3-4 in games Wang has started this season, the o/u 5-2.
In his only career start vs. the A's on April 5 of this year, Wang gave up 2 ER and 10 baserunners in 4 2/3 IP.
New York's offensive attack owns a .381 team OBP, best in the majors, and is averaging 6.1 runs per game.



The Oakland offense owns a .328 team OBP, 8th-best in the AL, and is averaging 4.6 RPG.
The A's bullpen has allowed 4 ER and 16 baserunners in its last 12 innings of work.
The Yankee pen has given up 10 ER and 32 baserunners (!) in its last 17 2/3 IP.
Bettors might want to check the starting lineups before wagering on this game. Oakland may be without catcher Jason Kendall (suspension), DH Frank Thomas and 3B Eric Chavez, and OF Milton Bradley is on the DL. For New York, Gary Sheffield is on the DL and OF Hideki Matsui broke his wrist Thursday night. Fellow OF Johnny Damon is listed as probable for Friday's game with a shoulder injury.



The o/u at Yankees Stadium is 8-7 this year, with Yankee home games averaging 10.9 RPG. Yankee Stadium games averaged 10.6 RPG last year, and 10.0 RPG in 2004.
The o/u is a collective 36-29 in A's and Yankees games this season.
Tired of the hassle of sending funds via Western Union to an online sportsbook? Check out Sportsbook.com where you can deposit using a credit card, hassle free!
The UltimateCapper Pick: We like the Yankees tonight with or without Johnny Damon!
Check out our other MLB Free Picks